The Division of Occupational Safety and Health (DOSH), better known as Cal/OSHA, protects and improves the health and safety of working men and women in California and the safety of passengers riding on elevators, amusement rides, and tramways – through the following activities:
Setting and enforcing standards
Providing outreach, education, and assistance
Issuing permits, licenses, certifications,
registrations, and approvals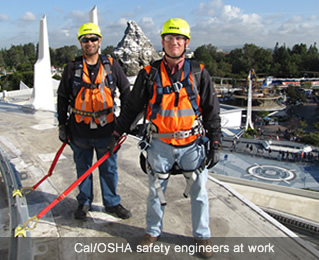 Cal/OSHA Training Academy COVID-19 Prevention Training Available
Employers
Report a Workplace Accident:
Featured Safety & Health Guidance & Resources
Other Resources
Cal/OSHA Consultation Services
Cal/OSHA provides free safety and health assistance to employers, with the goal of preventing occupational injuries and illnesses. A variety of services are available, such as:
On-site visits
Partnership programs
Telephone support
Educational Outreach
High Hazard Employer Program
Educational materials
Learn more about Consultation Services
Cal/OSHA Regulations

The Occupational Safety & Health Standards Board maintains an index to all Cal/OSHA regulations.
Cal/OSHA Alliance Program
The Alliance Program offers interested stakeholders the opportunity to enter into an Alliance agreement with Cal/OSHA to promote workplace safety and health.
What's
New

2023
September 2023

September 20, 2023
Wildfire Smoke Alert: Cal/OSHA Reminds Employers to Protect Workers from Unhealthy Air

August 2023

August 28, 2023
Cal/OSHA Reminds Employers to Protect Workers from Heat Illness due to Excessive Heat Warnings in Southern California
August 18, 2023
Cal/OSHA Reminds Employers to Protect Workers from Potential Worksite Hazards due to Severe Storm
August 15, 2023
Cal/OSHA Reminds Employers to Protect Workers from Heat Illness
August 10, 2023
Cal/OSHA Announces Expanded Presence for Workers and Employers in the Central Valley, Inland Empire and Central Coast
August 4, 2023
High Heat Hazard Alert: Employers Must Protect Workers from Heat Illness
Cal/OSHA Conducting Targeted Inspections in High Hazard Industries
August 3, 2023
Cal/OSHA Encourages Employers and Workers to Take the Pledge for Safe + Sound Week

July 2023

July 12, 2023
High Heat Hazard Alert: Employers Must Protect Workers from Heat Illness
Cal/OSHA Conducting Targeted Inspections During Heat Wave

June 2023

June 27, 2023
Cal/OSHA Reminds Employers to Protect Workers from Heat Illness during Period of High Heat
June 26, 2023
Cal/OSHA Cites Two Employers in Half Moon Bay for Health and Safety Violations Following Investigation into Workplace Violence that Killed Seven

May 2023

June 1, 2023
Cal/OSHA Reminds Employers to Protect Workers from Heat Illness during High Temperatures
May 31, 2023
DIR Reminds Cannabis Employers about Labor Law Requirements
May 12, 2023
Cal/OSHA Reminds Employers to Protect Outdoor Workers from Heat Illness during Period of High Heat

April 2023

April 28, 2023
Cal/OSHA Reminds Employers to Protect Outdoor Workers from Heat Illness
April 27, 2023
DIR and Cal/OSHA Honor Workers' Memorial Day
April 19, 2023
Cal/OSHA Cites Equipment Company, Refers Construction Company for Criminal Prosecution Following Confined Space Deaths

March 2023

March 21, 2023
Cal/OSHA Cites Sterilization Company $838, 800 for Overexposing Employees to Toxic Chemical

February 2023

February 27, 2023
OSH Appeals Board Decision in Heat Illness Prevention Case Adds Clarity to Provision of Water Requirements
February 4, 2023
COVID-19 Prevention Non-Emergency Regulations to Protect Workers from COVID-19 in Effect

January 2023

January 24, 2023
Cal/OSHA Reminder to Employers: Post 2022 Annual Summary of Work-Related Injuries and Illnesses on February 1