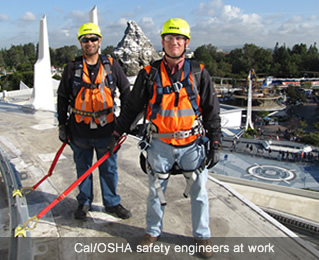 The Division of Occupational Safety and Health (DOSH), better known as Cal/OSHA, protects and improves the health and safety of working men and women in California and the safety of passengers riding on elevators, amusement rides, and tramways – through the following activities:
Setting and enforcing standards
Providing outreach, education, and assistance
Issuing permits, licenses, certifications,
registrations, and approvals
California Leads the Nation on Worker Safety
California administers the largest state OSHA plan in the nation and consistently exceeds its inspection goals to protect millions of workers each year. Here is the latest data from the 2019 federal fiscal year on how Cal/OSHA compares:
Cal/OSHA conducted the most inspections in the nation (7,571 inspections exceeds the goal of 7,540).
Cal/OSHA cited 18,896 hazards and created safer working conditions for at least 8.4 million employees.
Enforcement and outreach activities contributed to a 2018 fatality rate lower than the national rate (2.3 versus the national rate of 3.5 per 100,000 full-time workers).
Cal/OSHA is issuing citations to employers for violations related to protecting workers from COVID-19. All of the citations are available on our webpage.
View COVID-19 outbreak data that is collected and reported by the California Department of Public Health as required by AB 685.
Employers
Report a Workplace Accident:
Featured Safety & Health Guidance & Resources
Other Resources
Cal/OSHA Consultation Services
Cal/OSHA provides free safety and health assistance to employers, with the goal of preventing occupational injuries and illnesses. A variety of services are available, such as:
On-site visits
Partnership programs
Telephone support
Educational Outreach
High Hazard Employer Program
Educational materials
Learn more about Consultation Services
Cal/OSHA Regulations

The Occupational Safety & Health Standards Board maintains an index to all Cal/OSHA regulations.
Cal/OSHA Alliance Program
The Alliance Program offers interested stakeholders the opportunity to enter into an Alliance agreement with Cal/OSHA to promote workplace safety and health.
What's
New

2023

2022
December 2022

December 15, 2022
Occupational Safety and Health Standards Board Votes to Adopt COVID-19 Prevention Non-Emergency Regulations

September 2022

September 15, 2022
Cal/OSHA Posts Guidance on Protecting Workers from Monkeypox
September 7, 2022
Cal/OSHA Reminds Employers to Prepare for Hazards from Power Outages during Heat Wave
September 2, 2022
Cal/OSHA Conducting Inspections During Heat WaveCal/OSHA Conducting Inspections During Heat Wave

August 2022

August 29, 2022
Cal/OSHA Reminds Employers to Protect Outdoor Workers from Heat Illness During Heat Wave in California
August 16, 2022
Wildfire Smoke Alert: Cal/OSHA Reminds Employers to Protect Workers from Unhealthy Air
August 15, 2022
Cal/OSHA Reminds Employers to Protect Outdoor Workers from Heat Illness During Week of Excessive Heat in California

July 2022

July 8, 2022
Cal/OSHA Reminder: Protect Outdoor Workers from Heat Illness During Period of Excessive Heat in California
July 6, 2022
Cal/OSHA Reminds Employers to Protect Workers from Unhealthy Air due to Wildfire Smoke

June 2022

June 8, 2022
Cal/OSHA Reminder: Protect Outdoor Workers from Heat Illness During Period of Excessive Heat in California

May 2022

May 23, 2022
Cal/OSHA Reminds Employers to Protect Outdoor Workers from Heat Illness
May 19, 2022
Cal/OSHA Cites Four Employers $1.75 Million for Safety Violations in Death of Worker at Valero Refinery
May 7, 2022
Cal/OSHA Releases Fact Sheets and FAQs on Updated COVID-19 Emergency Temporary Standards

April 2022

April 28, 2022
DIR and Cal/OSHA Honor Workers' Memorial Day
April 26, 2022
Cal/OSHA Reminds Employers to Protect Outdoor Workers from Heat Illness, Wildfire Smoke
April 6, 2022
Cal/OSHA Reminds Employers to Protect Outdoor Workers from Heat Illness

March 2022

March 7, 2022
California Labor and Workforce Development Agency and 61 Community-Based Organizations Across California to Launch Worker Week of Action

February 2022

February 7, 2022
Cal/OSHA Announces Advisory Committee for Domestic Workers

January 2022

January 26, 2022
Cal/OSHA Reminds Employers to Post 2021 Annual Summary of Work-Related Injuries and Illnesses on February 1
January 14, 2022
Cal/OSHA Posts Fact Sheets and Updated COVID-19 FAQs
January 6, 2022
Cal/OSHA Updates COVID-19 FAQs to Align with CDPH Guidance on Isolation and Quarantines