Research and Standards
The Cal/OSHA Research and Standards (R&S) Occupational Health Unit and Occupational Safety Unit are responsible under Labor Code sections 50.7, 147, 147.1, and 6450-6457 for the following:
Occupational Health and Safety Standards
Developing occupational health and safety standards in collaboration with the Occupational Safety and Health Standards Board (Labor Code sections 142.3-142.7, 147, and 147.1), ensuring that California's standards are at least as effective as federal OSHA's standards (Labor Code section 50.7; US Code, title 29, section 667).
See Steps to Develop an Occupational Health Standard
Proposing new or revised standards based on research and knowledge concerning new hazards, improved methods to protect workers, or recent developments in case law (Labor Code sections 144.5 and 147.1).
Assisting and supporting other programs in Cal/OSHA in the interpretation and application of existing occupational health and safety standards.
Permanent and Temporary Variances
Evaluating applications for a permanent variance from an occupational safety or health standard to determine whether the employer's proposed method will provide equal or superior safety for employees (Labor Code sections 143 and 147).
Issuing temporary variances from an occupational safety or health standard if the employer needs additional time to come into compliance with a new regulation or proposes to participate in an experiment to demonstrate or validate new and improved techniques to safeguard the health and safety of employees (Labor Code sections 6450-6457).
Occupational Safety Determinations and Certifications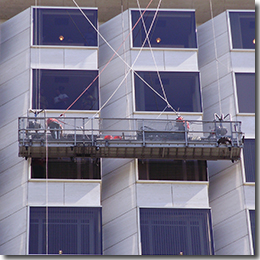 Determining whether installation and maintenance of exterior building maintenance equipment, including window-washing equipment, comply with applicable safety standards (Labor Code sections 7325-7332; Title 8 regulations, sections 3281-3299).
Certifying persons as qualified to inspect and test building surface maintenance equipment, including scaffolds (Title 8 regulations, sections 3282(p)(1)(C)2 and 3296(b)).
Certifying protective covers for reinforcing steel bars (rebar) and other similar projections to prevent impalement (Title 8 regulations, sections 344.90, 1505, and 1712).
Certifying gasoline vapor control systems used in service stations after evaluating safety hazards other than a fire hazard (Health and Safety Code sections 41950-41962).
Contact:
Occupational Health and Safety Standards
Permanent and Temporary Variances
To apply for a permanent variance, contact the Occupational Safety and Health Standards Board.

To apply for a temporary variance, contact:

Chief's Office
Cal/OSHA Headquarters
1515 Clay Street, Suite 1901
Oakland, CA 94612
(510) 286-7000
Occupational Safety Determinations, Licenses, and Certifications
For exterior building maintenance equipment compliance determinations in southern California, licenses to inspect and test building surface maintenance equipment in southern California, rebar protective cover certifications, and gasoline vapor control systems certifications:
For exterior building maintenance equipment compliance determinations in northern California and licenses to inspect and test building surface maintenance equipment in northern California:
May 2018