Public Works
Public works refers to construction, alteration, demolition, installation, or repair work (including maintenance) done under contract and paid by public funds. Public works projects do not include those done by a public agency with its own employees.
With minor exceptions, all workers employed on public works projects must be paid the prevailing wage determined by the Director of the Department of Industrial Relations according to the type of work and location. The prevailing wage rates are usually based on rates specified in collective bargaining agreements.
The Director of DIR also makes coverage determinations, hears enforcement appeals, and oversees labor compliance programs, while the Labor Commissioner is responsible for all compliance monitoring, investigations, and enforcement.
Contractor Registration
Important Notice for Contractors:
Contractors acquiring a public works contractor registration number should pay any fees and/or penalties if applicable by credit card. With a credit card payment, contractors can expect a registration number within 24 hours. Otherwise, any other form of payment will take up to eight weeks for verification of payment and may impact further fees and/or penalties.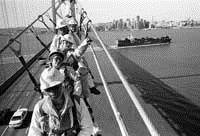 Beginning July 1, 2014, contractors must register and meet requirements using the online application before bidding on public works contracts in California. The application also provides agencies that administer public works programs with a searchable database of qualified contractors. Application and renewal are completed online with a non-refundable fee of $300. Read the SB 854 Fact Sheet for a complete list of requirements.
Instructions for completing the form
PUBLIC WORKS CONTRACTORS AND SUBCONTRACTORS - IT'S TIME TO REGISTER WITH DIR!
For more information, please read our frequently asked questions. If you have additional questions, please send an email regarding contractor registration to SB854@dir.ca.gov or contact DLSE by telephone (click here to find your local DLSE office)
To learn more about contractor registration information and process, view a webinar or slide presentation.
Project Registration
The agency awarding the contract for a public works project must notify DIR within five days by completing the PWC-100 form online. This requirement now applies to all public works projects that are subject to the prevailing wage requirements of the Labor Code, regardless of size or funding source.
March 2015