Tree Work Safety
What is Tree Work?
Tree work includes trimming, pruning, felling, and removing trees and bushes. It can involve climbing trees, using portable ladders, aerial devices, working at heights while using power tools, working near energized overhead or downed power lines, feeding wood chippers, and other hazardous operations.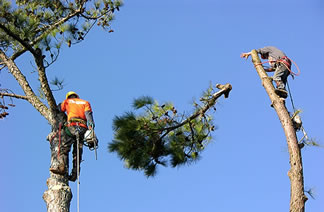 What Are Common Hazards of Tree Work?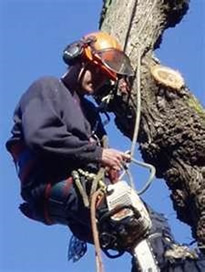 Falls
Electrical shock
Being struck by a tree branch
Being struck by falling objects
Chainsaw lacerations
Palm tree skirt collapses
Ladder accidents
Wood chipper accidents
Poisonous plants
Bees and other harmful animals
Heat stress
Tree Work Safety Video

Other Cal/OSHA Resources
Department of Public Health Resources
How to reach Cal/OSHA
If you have questions or need assistance with tree work safety, contact Cal/OSHA's Consultation Services Branch. Statewide toll-free number: (800) 963-9424.
October 2017