Golden Gate Partnership Program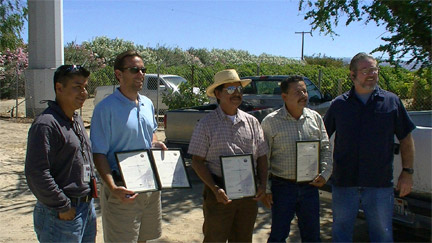 List of Golden Gate Participants - Golden Gate recognition is valid for one (1) year from the date of the certificate issuance.
Golden Gate recognition is site-specific. Your company may be eligible to receive a letter of commendation from Cal/OSHA Consultation Services if your company requests and receives a Cal/OSHA Consultation on-site visit at one of its worksites, and subsequently meets the qualifications for Golden Gate recognition. Companies qualified for Golden Gate recognition do not receive any kind of exemption, except the traditional exemptions associated with actively working with Cal/OSHA Consultation Services.
Like all the Cal/OSHA partnerships, the Golden Gate recognition process is designed to ensure success. Cal/OSHA Consultation Services is always available to assist eligible companies in becoming qualified to receive Golden Gate recognition.
Only one Golden Gate letter of recognition is provided per company per worksite. There are no renewals once Golden Gate recognition is achieved by a company at a specific worksite. However, a change of ownership or location will allow the new owner, or the same company at a new location, the opportunity to apply for Golden Gate recognition.
---
If you are interested in participating in one of our partnership programs, please contact your local area office to obtain more information and request an application packet.
March 2022