Reducing bloodborne pathogens exposure in dentistry: an update -- page 2
Exposure control plan

Your exposure control plan must promote the use of safe and effective engineering controls and work practices in your dental office. The written exposure control plan must contain at least the following elements:

"Policy and elements " - a policy statement to identify the required elements.

"Exposure determinations" – list of jobs where your employees may have occupational exposure.

"Schedules for implementing procedures" including:
observing universal precautions
assessing and updating engineering / work practice controls
handling regulated waste
cleaning and decontamination of the worksite / equipment
promoting good hygiene
using PPE
providing Hepatitis B vaccination and post-exposure evaluation and follow-up
communicating hazards to employees
keeping records
"Provision for the initial reporting of exposure incidents"
"Hepatitis B vaccination" - establishes a policy to provide and document the hepatitis B vaccine series to unvaccinated employees.
"Post-exposure evaluation and follow-up" – details procedures to care for employees after an exposure incident.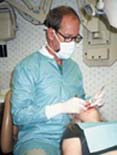 "Effective procedures" for:
evaluating the circumstances of exposure incidents
gathering sharps injury log information
tracking the frequency of use / types / brands of sharps involved in exposure incidents
identifying and selecting appropriate / currently available engineering controls
documenting exceptions to using engineering controls
involving employees in the review / update of the exposure control plan