Fall Protection
As trainers of your students and young workers, you are responsible for educating them on workplace health and safety including (but not limited to): safe work practices, worker's rights, the importance of learning in safety meetings and other trainings, and complying with rules and regulations. To reduce the risk of injury and increase productivity, see the information below:
When training your students and young workers make sure and review with them their information on Fall Protection.
Cal/OSHA has a number of regulations related to Fall Protection in construction - found in Title 8 of the California Code of Regulations (T8CCR). The specific Cal/OSHA safety requirements that apply to your trainees depends on the types of construction activities they will actually be performing. The complete set of Title 8 regulations can be found at:
www.dir.ca.gov/samples/search/query.htm
Working Heights and Trades - In the Cal/OSHA regulations there are many working heights that trigger the use of Fall Protection depending on the trade, the job being performed, the height at which the work is done and the dangers below the working surface. The Cal/OSHA regulations related to Fall Protection in construction can be found in Chapter 4. Division of Industrial Safety, Subchapter 4. Construction Safety Orders
The following is an overview of the regulations in Title 8 for Fall Protection in construction (not all of the applicable Title 8 regulations are given below)
Fall Protection Systems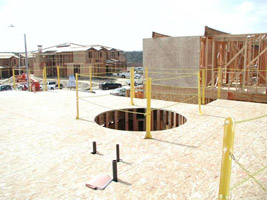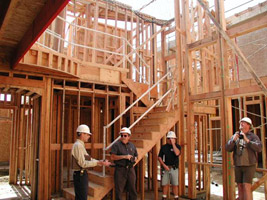 Preventing Falls
Guard Rails and Toeboards must be installed:

On all open sides of unenclosed elevated work locations like roof openings, landings, balconies or porches on working levels more than 30 inches above the floor, ground or other working areas (T8CCR 3210) and
On floor, roof and wall openings (only for wall openings from which there is a drop of more than 4 feet and the bottom of the opening is less than 3 feet above the working surface)(T8CCR 1632).The requirement is for guard rails with either a swinging gate or equivalent protection and floor or roof openings must be covered and painted "OPENING: DO NOT REMOVE".

Scaffolds (T8CCR 1635.1 - 1637 and 1640 - 1655)

Required when work can not be done safely by employees standing on permanent or solid construction at least 20 inches wide except when work can be done safely from ladders (T8CCR 1637)

Exception 1 - Work of limited nature and short duration when the permanent or solid construction is less than 20 inches in width and fall distance does not exceed 15 feet in height and provided adequate risk control is recognized and maintained under competent supervision.
Exception 2 - Work of short duration from joists or similar members at 2 feet or closer centers, planks resting on these members forming a plank platform 12 inches wide or equivalent protection.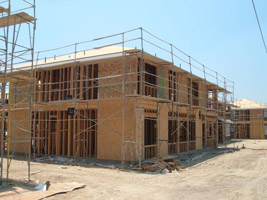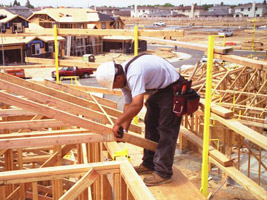 Stopping Falls
If guard rails, toeboards and scaffolds are not provided or impractical above 7.5 feet to stop falls one or more of the following Fall Protection Systems must be used:
Approved Personal Fall Arrest, Personal Fall Restraint or Positioning Systems (T8CCR 1670) shall be worn by those employees whose work exposes them to falling in excess of 7.5 feet from the perimeter of a structure, unprotected sides and edges, leading edges, through shaft ways and openings, sloped roof surfaces steeper than 7:12 or other sloped surfaces steeper than 40 degrees not otherwise adequately protected under the provisions of these orders.
Safety Nets (T8CCR 1671) - requires safety nets where the elevation is 25 feet or more above the ground, water surface, or continuous floor level below, and when the use of personal fall arrest systems, personal fall restraint systems, positioning device systems or more conventional types of protection are clearly impractical, the exterior and/or interior perimeter of the structure shall be provided with an approved safety net extending at least 8 feet horizontally from such perimeter and being positioned at a distance not to exceed 10 feet vertically below where such hazards exist, or equivalent protection provided safety nets shall extend outward from the outermost projection of the work surface as follows:
| Vertical distance from working level to horizontal plane of net. | Minimum required horizontal distance of outer edge of net from the edge of working surface. |
| --- | --- |
| Up to 5 feet | 8 feet |
| More than 5 feet up to 10 feet | 10 feet |
| More than 10 feet but not to exceed 30 feet. | 13 feet |
Fall Protection Plan
T8CCR 1671.1 - requires that if conventional fall protection systems are not practical for the work being performed, then a written fall protection plan must be developed and implemented by a qualified person. The plan permits work to be carried on in a designated area, without conventional fall protection, and requires alternate measures to be used to reduce any fall hazard. There must be constant observation by a safety monitor. The area of the work is known as an "controlled access zone" and only trained workers can enter.