Housekeeping
As trainers of your students and young workers, you are responsible for educating them on workplace health and safety including (but not limited to): safe work practices, worker's rights, the importance of learning in safety meetings and other trainings, and complying with rules and regulations. To reduce the risk of injury and increase productivity, see the information below:
When training your students and young workers make sure and review with them their information on Housekeeping in What Can Happen to You and How to Keep Yourself Safe..
Cal/OSHA has a number of regulations related to housekeeping in construction - found in Title 8 of the California Code of Regulations (T8CCR). The specific Cal/OSHA safety requirements that apply to your trainees depends on the types of construction activities they will actually be performing. The complete set of Title 8 regulations can be found at:
www.dir.ca.gov/samples/search/query.htm
The following is a brief overview and summary of the regulations in Title 8 related to housekeeping. Not all of the applicable Title 8 regulations are given below.
During the course of construction, alteration or repairs, form and scrap lumber with protruding nails and all other debris shall be kept reasonably clear from work areas, passageways, and stairs around buildings or other structures - T8CCR 1513(a)
Combustible debris accumulated within the building or structure should be removed promptly during the course of construction. Safe means shall be provided to expedite such removal T8CCR 1513(d)
All waste shall be disposed of at intervals determined by the rate of accumulation and capacity of the job site container - T8CCR 1513(f)
Waste, materials, or tools shall not be thrown from buildings or structures to areas where employee(s) may be located, unless the area where the material falls is guarded by fences, barricades, or other methods/means to prevent employee(s) from entering and being struck by falling objects. Signs shall be posted to warn employees of the hazard. T8CCR 1513(g)
Materials which may cause a hazardous reaction or unstable condition while in storage shall be segregated - T8CCR 1549(g)
Place protective covers (manufactured or job built apparatus designed to cover exposed ends of reinforced steel or other similar projections) so as to prevent impalement T8CCR 1712(b)
Hand protection shall be required for employees whose work involves unusual and excessive exposure to cuts, burns, harmful physical or chemical agents or radioactive materials which are encountered and capable of causing injury or impairments. T8CCR 1520
Material storage areas and walkways on the construction site shall be maintained reasonably free of dangerous depressions, obstructions, and debris - T8CCR 1513(c)

Planning and Implementation
Encourage everyone on the job site to pitch in and contribute to housekeeping
Set up preconstruction meetings and invite all contractors to discuss ways to coordinate delivery and storage of materials as well as removal of waste
Pre-plan routes, designated areas, and signage placement. Emphasize that traffic routes and designated areas must remain clear of debris at all times.

Draw diagrams and update them as the construction site changes to show:

Pedestrian access and egress to the work zone.
Traffic routes
Designated areas for:

collection of waste and recyclable materials close to the work

staging of materials. Minimize the distance for materials to be transported from storage to actual point of use

storage of tools and equipment
fire extinguishers

Provide adequate number of containers that are clearly marked as either recyclables or waste
Ensure that piled or stacked materials are stable and there is enough room around them for access
Provide mechanical devices (e.g., wheelbarrows) to assist in moving materials
Arrange for disposal and recycling services to pick up at regular intervals
Control muddy areas by using gravel, boards, plywood, vinyl runners, and other materials
Mark slopes and changes of levels
Ensure work areas are well lit
Remind students and young employees to keep:

a safe working distance from heavy equipment and
in visual contact with equipment operators.

Monitor housekeeping activities and correct unsafe work practices immediately.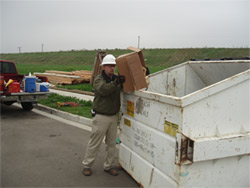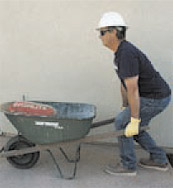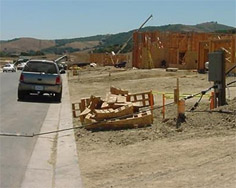 Training
Train Students and Young Employees on:
Reading and understanding Material Safety Data Sheets (MSDSs). Also tell them where they are kept