JET File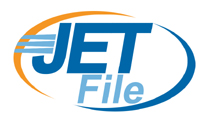 JET File allows the electronic filing of completed forms, pleadings, and attachments in workers' compensation cases by way of a single, secure transmission to the Division of Workers' Compensation (DWC) Electronic Adjudication Management System (EAMS). Forms that may be filed electronically include:
Application for adjudication of claim
Declaration of readiness to proceed (to hearing)
Declaration of readiness to proceed (to expedited trial)
Compromise and release
Stipulations with request for award
Notice and request for allowance of lien
Golden Rod lien (EDD only)
The Unstructured Form can be used for all other filing requests (Click the Document titles link for the complete list) - July 31, 2020
Supplemental Lien Form and Section 4903.05(c) Jan. 1, 2017
Answer to Application for Adjudication of Claim - Jun 21, 2019
Request for Summary Rating Determination of Primary Treating Physician - Jul 31, 2020
Request for Consultative Rating - Jul 31, 2020
About JET File
JET File uses an Internet connection employing a technical protocol (secure file transfer protocol, or SFTP) that allows filers to transmit forms and attachments securely to State of California servers, where the filing is picked up by DWC and deposited into EAMS.
JET Filers have three ways to use this service. Filers may:
Utilize software supplied by an authorized vendor that allows them to JET File;
Use a third-party filer to transmit forms and attachments on their behalf; or
Build and utilize their own transmission process using the technical specifications published by DWC.
Please Note:  DWC does not endorse or guarantee the performance of any vendor, product or service for the purposes of JET filing. Rather, DWC does not permit electronic filing into EAMS by JET unless DWC has confirmed that the transmission utilized by the service or product is compatible with EAMS, and has received the vendor's signed EAMS JET File Trading Partner Agreement in which the vendor agrees that it utilizes transmission protocol meeting DWC's current data security requirements. An Authorized Vendor is one whose transmission methods have been confirmed by DWC to be compatible with EAMS as of the testing date, and who has represented in writing that its transmission methods meet specific data security requirements.
A consumer of any e-filing product (software) or service and the vendor are responsible for ensuring that the vendor's business operations, products and/or services comply with all applicable laws.
How to JET File
If utilizing software:
If using a vendor of third-party filing services:
Read the business rules and trading partner agreement to understand JET File parameters;
Complete and sign the vendor's form so it may file on your behalf; and
Work with the vendor to ensure the vendor follows all business rules.
If building a transmission process:
You must file at least 100 of any one of the following forms annually: application for adjudication of claim, declaration of readiness to proceed (to hearing), declaration of readiness to proceed (to expedited trial), compromise and release, stipulations with request for award, notice and request for allowance of lien.
Resources:
June 2022