New Labor Laws in California
The Labor Commissioner's Office provides information and resources for workers and employers on new laws in California. The materials below explain new labor laws that apply to many workplaces in California.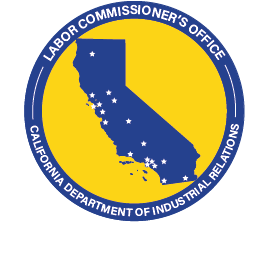 The Garment Worker Protection Act
Warehouse Quotas
Recall Rights
Minimum Wage
Overtime for Agriculture Workers
Questions
What's New
The Garment Worker Protection Act (Senate Bill 62)
Senate Bill 62, also known as the Garment Worker Protection Act, went into effect on January 1, 2022. The new law addresses the proper payment of employees in the garment industry as well as the responsibility for parties contracting to have garment operations performed in several important ways.


Visit the Labor Commissioner's portal of information on garment work in California
Frequently Asked Questions on the Garment Worker Protection Act (SB62)
Warehouse Quotas (Assembly Bill 701)
Assembly Bill 701 went into effect on January 1, 2022. Warehouse workers in California now have protections from quotas that violate labor laws. Employers must also provide information on quotas that employees have to meet while working.
Frequently Asked Questions on Assembly Bill 701
Recall Rights (SB 93)
Employees of certain hospitality and service industry employers who were laid off for COVID-19 related reasons must be notified of job openings for the same or similar positions as the ones they last held. They must be offered available jobs, with priority based on length of service, before new employees can be hired.
Frequently Asked Questions on Recall Rights
Flyer on Recall Rights (English) Folleto sobre el derecho a regresar (Spanish)  
Minimum Wage $15.00/hour Phase in from 2017-2023 (Senate Bill 3)
In 2017, Senate Bill 3 started a phase in of requirements to raise California's minimum wage to $15.00 an hour. The increase in minimum wage is different for large employers (26 or more employees) and small employers (25 or fewer employees).
Starting January 1, 2022 the minimum wage is $15.00 an hour for large employers and $14.00 an hour for small employers. 
If a local entity (city or county) has adopted a higher minimum wage, employees must be paid the local wage where it is higher than the state or federal minimum wage rates.
Frequently Asked Questions on Senate Bill 3
Information on minimum wage in California
Overtime for Agriculture Workers (Assembly Bill 1066)
In 2016, Assembly Bill 1066 created a timetable for agricultural workers to receive overtime pay so that they will gradually receive overtime pay on the same basis as workers in most other industries (after 8 hours per day or 40 hours per week).

Starting January 1, 2022 employers with 26 or more employees must pay agriculture workers overtime after 8 hours in a day or 40 hours in a week. Employers with 25 or fewer employees must pay agriculture workers overtime after 9.5 hours per day or 55 hours per week.

Information on Overtime Pay for Agriculture Workers
Frequently Asked Questions on Assembly Bill 1066
Questions
Send questions about labor laws to DLSE2@dir.ca.gov to get in touch with the Labor Commissioner's Office
What's
New
December 2021