APPRENTICESHIP
Department of Water Resources Apprenticeship Program Celebrates 50 Years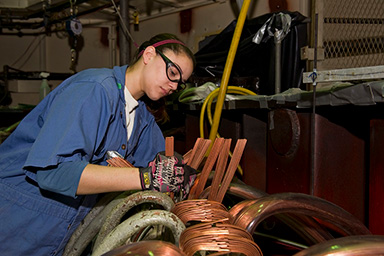 The California Department of Water Resources (DWR) Operation and Maintenance Apprenticeship Program began in 1971. Since the beginning of the program, 595 apprentices have graduated from one of four trades including hydroelectric plant electrician/mechanic/operator and utility craftsworker apprentice. The apprenticeship is a paid program that combines supervised on-the-job training, classroom training and home study. Upon completion of the three-to-four-year program, graduates become a certified journey person and are guaranteed journey level positions at DWR facilities throughout the state.
When the program first began in the '70s, DWR started with six hydroelectric plant operator apprentices in a one-room classroom in Bakersfield. By 1978, the program expanded to include hydroelectric plant electrician and hydroelectric plant mechanic apprentices. In 1980, the program once again grew to include utility craftsworker apprentices. Today, much of DWR's workforce consists of apprentice graduates. DWR has been successful in retaining the knowledge, experience and skill level these employees were provided, as a result of our successful apprenticeship program to run the day-to-day activities of the State Water Project.
"For five decades, the DWR apprentice program has been the start of a rewarding career in the hydroelectric industry for many while providing DWR a workforce that is ready to run the State Water Project," said David Duval, Division Chief, Operations and Maintenance. "The apprentices that work at State Water Project facilities throughout California and earn a career are key to the State Water Project being successful in providing a reliable water supply to more than 27 million Californians."
Depending upon an apprentice's trade, they can earn between 34 and 42 units in Industrial Technology through San Joaquin Delta College. The program consists of 30 courses including gas and arc welding; motors and generators; pumps, bearings and turbines; hydraulics; heavy equipment and environmental awareness.
For more information about the program, including how to apply visit: DWR Apprenticeship Program webpage
February 2022