APPRENTICESHIP
A Word From a Journeyperson
What does apprenticeship mean to you?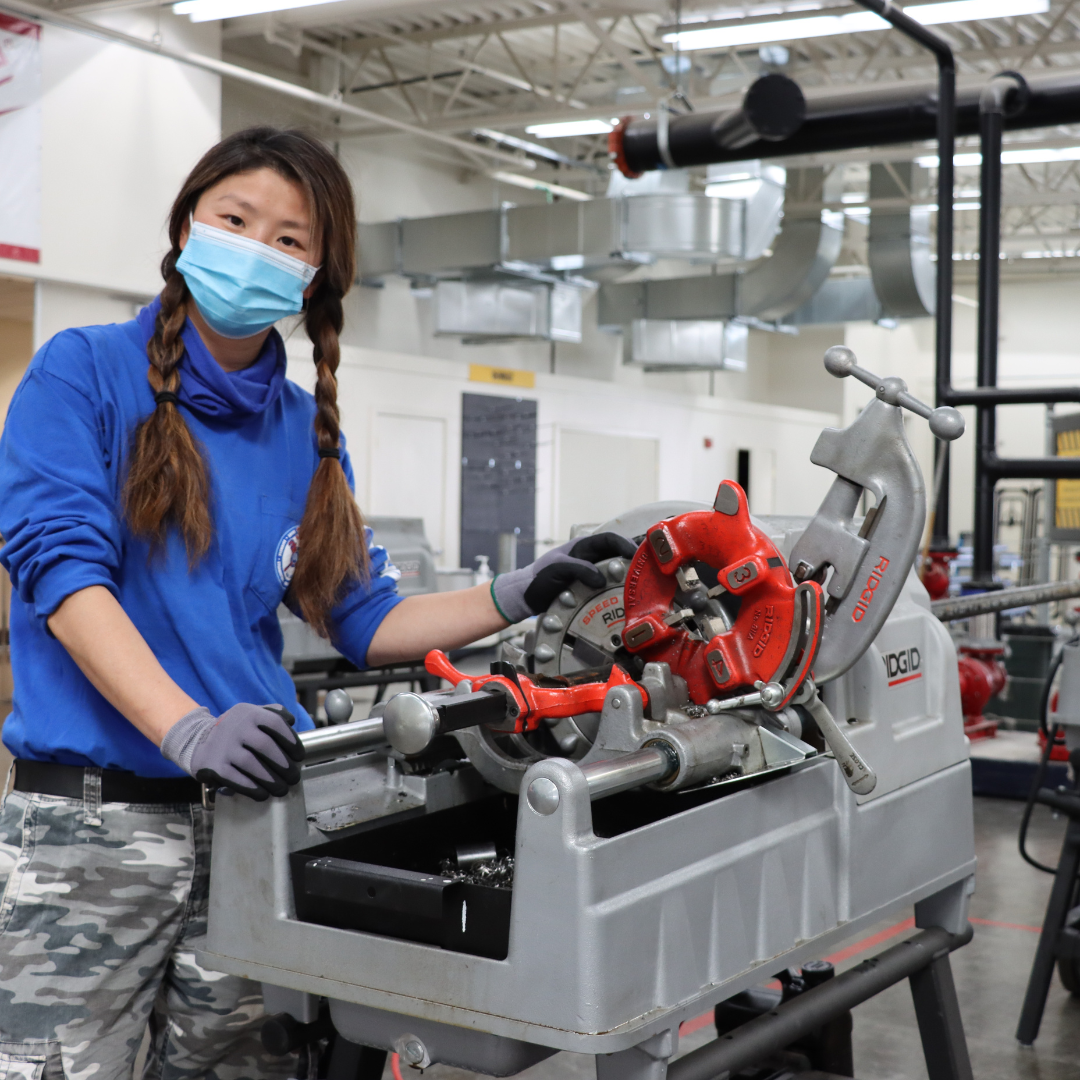 "When I was 17, I decided to pursue a Doctors' degree in children's psychology. After a year of studying psychology, I realized I didn't want to be in school until I'm 30. So, I switched majors and finished with a Bachelor of Science degree in design. That was back when everyone was getting their very first website. It was fast and easy money. Little did I know, I'd end up accepting a pay cut and going back to school for 5 years as an apprentice plumber at age 33.
Before I decided to pursue a career in plumbing, I had what most people consider a cushy office job. After a decade in the office world, I worked my way up to a senior graphic designer position in marketing. However, I was missing fresh air, sunshine and the joy of doing something physical and not virtually on the computer.
After some soul-searching, I found the plumber apprenticeship program. I can recall thousands of times people asked me why I'd want to be a plumber and there are so many reasons. One could be the fact that when my father grew up in the countryside, they didn't have indoor plumbing or running water. He has told me stories of when they had to beg and trade food for fresh water from neighbors. Or, that I used to use duct tape to patch leaks under the sink. Or, that I have had too many midnight emergencies regarding something either leaking, clogging or having no hot water. Ultimately, I just want to work physically and make a difference in people's lives. The joy of making something physically out of my own hands is priceless. What I used to do as a graphic designer was very intangible, and I would often go home exhausted from the feeling of having done nothing of importance.

I find it unbelievable that I can call myself a plumber, because it is never a profession that anyone, even myself, had considered possible for girls. I thank everyone who had ever given me the benefit of doubt. My dad almost disowned me for the first few years. It's amazing to wake up in the dark and report to work at 6 a.m., and to work in construction. Whether it's working underground in the mud or running up 10-flights of stairs to the roof installing gas pipes, or crawling in confined spaces every day is an exciting adventure.
Being a part of the construction crew taught me many things, but most importantly was that nothing grand is done alone, and teamwork is the essence of every great project. I'm glad to be a part of the United Association of Journeymen and Apprentices of the Plumbing and Pipefitting Industry of the United States and Canada family and call myself a plumber. My eventual life goal would be to help provide clean water and safe housing for communities and people with limited resources.

Four years ago, I started guest speaking at the Stanford University Workforce VDC Program. This program bridges the gap between management and workers in the field, to improve communication with visual design technology, create a win-win situation for all parties involved on a construction project. Now, I help run and coach the program. I have the honor of being the union job steward, representing our working pipe trade members on the Intel Santa Clara campus.

In my leisure time, you can find me in the garden. As a gardener, I have learned that we can't change the seasons, but we can help create a favorable environment for all plants and creatures to thrive in harmony. There are no weeds, just the wrong plant in the wrong place."
March 2023