APPRENTICESHIP
A Word From an Apprentice
What does apprenticeship mean to you?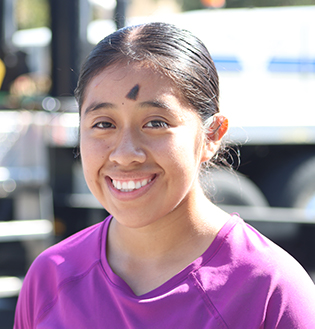 "I am a proud Millwright apprentice out of local 102! I am a first-generation daughter to my parents. No one would have ever imagined me with cargo pants, steel toes, long sleeves and a hard hat. If anything they were expecting something along the lines of going to college, joining the military or being a part of the food industry like the rest of my family members
Starting this journey to become an apprentice has changed my life. I was just scrolling through TikTok one afternoon when I came across a video about the pros and cons of both college and trade schools. Two weeks later, I got an email from our high school counselors about a program called Trades Orientation Program (TOP). I took it as a sign and decided to enroll in the program.
I learned about different trades, unions and locals. Once in a while, I would scroll through the Carpenters Training Committee for Northern California website, and that's where I found the millwrights. On an early morning in October 2021, I got a few text messages, and later a phone call, from my former TOP personnel about an opportunity. I took a few days of thinking and discussing before I decided to take that step forward and try my luck.
Some of the most rewarding parts of my apprenticeship are waking up in the early mornings, having some quiet time to myself and making money, while others sleep. I like that I learn something new every day, but it's always a bittersweet moment when I know that I am doing something that was originally meant for only men. Bitter because I wish more women could work like I do, but sweet because I've made it this far.
To anyone who is considering an apprenticeship program, I say GO FOR IT!!!! Forget what others have to say, be selfish and take care of you and your future. I had many people tell me that this field wasn't for women and that I should just go to college instead. I was looked at funny. Some people thought that I was going through a typical young adult phase and that I didn't know what I wanted. Don't be scared to be different. There has not been one day where I am not smiling at work. Be persistent with what you want, go out of your comfort zone and try new things. You really don't know your full potential until you try it. Believe me, those same people are now congratulating me.
Before I became an apprentice, I remember driving around and seeing so many apartments and houses being built. I became fascinated by the fact that workers could start from dirt and months later have a beautiful complete product. But, I think it all came down to not seeing enough females around the construction sites. So of course, I had to go out of my way and add myself to one of those sites. In the future, I definitely want to own a company. One that will consist of all types of workers, but with the majority being female, non-English speakers, first-generation and those who are coming out of trouble.
Take advantage of every single opportunity that you are given, There's overtime? Take it. Your local/Union is holding classes on the weekend? Go to them, and make yourself valuable. Take time out of your weekend and learn a new skill. Don't be just another number on the list, make yourself stand out. Everything and anything is possible when you put your heart and mind into it."
December 2022