APPRENTICESHIP
Virtual Design and Construction Apprenticeship Program Brings Tech to the Trades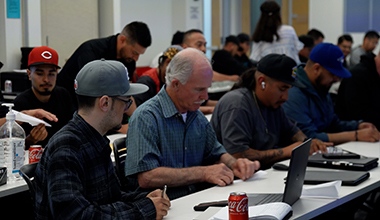 The building industry is increasingly applying recent technological advancements and virtual design methods to create, construct, and operate buildings. Advanced design and construction concepts and cadwork software are applied through Virtual Design and Construction (VDC), an industry management practice allowing for collaborative approaches to building model creation, design development, and sustainable construction. VDC implementation increases technological literacy, improves communication between managers and tradespeople, facilitates sustainable project development, reduces project costs, offers more equitable working conditions, and enhances workforce career opportunities.
Researchers at Stanford University have recently partnered with industry stakeholders to implement formalized programming that extends VDC concepts to workforce members across a range of industries in order to develop a more technologically skilled workforce. The Workforce VDC Program at the Center for Integrated Facility Engineering (CIFE) is a data-driven, project-based educational program that leverages partnerships between trades in the building industry—including plumbing, electrical, roofing, and waterproofing—and Stanford University. The program applies construction management principles and cross-disciplinary teaching, thereby upskilling managers and workers alike.
The program was launched in 2021 by Palo Alto Data Group and CIFE as a project-based program aimed at educating construction tradespeople from union signatory companies in VDC concepts. The initial cohort of ten participants represented a range of trades in the California Bay Area construction industry. In 2022, the program will award VDC certificates and continuing education credits to 96 participants from the roofing and waterproofing trades. The program's opportunities will extend to future cohorts of construction workers representing additional trades.
For more information on the program, please see the Stanford CIFE Workforce VSC Education webpage.
December 2022