APPRENTICESHIP
Action Plan in Place for Reaching California's Apprenticeship Goals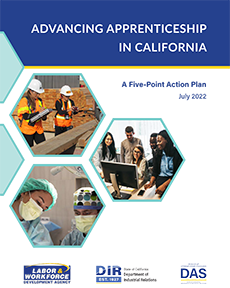 Four years ago, Governor Gavin Newsom laid out his administration's ambitious goal to expand California's apprenticeship system to serve 500,000 apprentices by 2029. This month, the Labor & Workforce Development Agency, the Department of Industrial Relations and its Division of Apprenticeship Standards released a Five-Point Action Plan to guide the process as it moves forward to make the Governor's goal of expanding apprenticeships a reality.

The action plan details the strategy to expand apprenticeship participation through new and revised policies. These include supporting sectoral and regional intermediaries, which play a critical role in building and sustaining multi-employer apprenticeship partnerships; developing and refining state policies and processes for apprenticeships in non-traditional sectors; addressing gender and racial inequities in apprenticeships in traditional construction and firefighting trades; building a statewide youth apprenticeship framework; and encouraging California's state and local governments to hire apprentices into public service

Although California's investments and policy support for apprenticeship are the most generous and extensive in the country, the current system is not currently equipped to rise to the challenge of serving 500,000 Californian apprentices by 2029. The ambitious five-point plan sets up the framework and strategies to meet the goal. It also presents five case studies of programs currently up and running as successful models, including LAUNCH Apprenticeship Network, Bitwise Industries, Early Care and Education Pathways to Success (ECEPTS), Women in Non Traditional Employment Roles (WINTER), Apprenticeship Reaching Career Horizons (ARCH), and the SEIU Local 1000 LVN to RN Apprenticeship Program. With the right support, these model programs could be replicated in different regions and different industries across the state.

Apprenticeship is a time-tested education and employment model that allows learners to earn money while acquiring valuable skills, experience, credentials and professional connections, while providing employers with the talent they need to get the job done. The five-point plan will not only help meet the Governor and his administration's goal but will create accessible and equitable pathways for Californians into well-paying careers.
For more detail please see: Advancing Apprenticeship in California – A Five Point Plan
July 2022