APPRENTICESHIP
$25 Million in Grant Funds Available to Help Women in Construction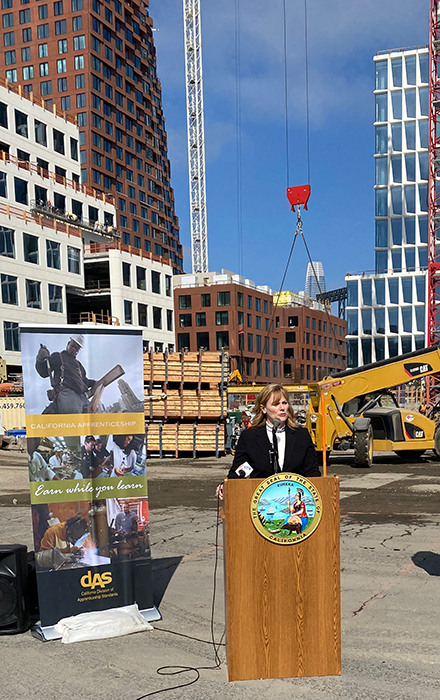 Building and construction trades have been the backbone of apprenticeship in California for decades. These jobs can provide security and a stable income, but if you aren't a man, you are in the minority within this industry. Women only make up about 3 to 4 percent of the building trades' workforce. The effects of the pandemic have also disproportionally affected women in the workforce. Many of the industries that were women dominated—nurses, teachers and hospitality workers—were also some of the hardest hit sectors of the economy. We can do better.

On October 12, the Labor Agency, the Department of Industrial Relations, and its Division of Apprenticeship Standards (DAS) held a press conference announcing the Equal Representation in Construction Apprenticeship (ERiCA) grant. This grant makes $25 million available to improve access to training and employment opportunities for women, non-binary and underserved populations to enter the building and construction trades.
One of the main goals of the ERiCA grant is to remove a primary barrier to entry: the cost of childcare. Up to $5000 per pre-apprentice and up to $10,000 per registered apprentice will be available for programs to go toward childcare for its parent participants. This funding will both allow more women and underrepresented parents to participate in 4–8-week pre-apprenticeship programs and offset childcare costs for apprentices as well. The grant also seeks to bolster targeted outreach to those in underserved communities who want a career in the building and construction trades.
To be an eligible program applicant for the ERiCA funding, organizations must work with a DAS registered pre-apprenticeship or apprenticeship program in the construction industry. Organizations should have a history of serving underrepresented groups in this industry. DAS has outlined the steps and information needed to apply on its ERiCA Grant Solicitation for Proposals webpage. Additional details will be posted before grant proposals are due January 12, 2023.
Questions about the grant can be sent to:
DASGrantUnit@dir.ca.gov
October 2022