Eureka - Satellite office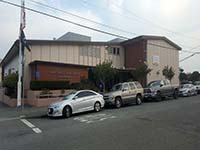 100 "H" Street, Suite 202
Eureka, CA 95501-0481
707-445-6518
Peter Hink, presiding judge
General information
Eureka is a satellite of the Santa Rosa District Office.
Units within the Eureka district office:
| | |
| --- | --- |
| Recorded information: | 1-800-736-7401 |
| Disability accommodations: | 1-866-681-1459 |
Zip code locator tool will help you locate the DWC district office serving your ZIP code.
Court hours
Court is in session:
8:30 a.m. to 12:00 p.m. morning session
1:30 p.m. to 5:00 p.m. afternoon session
Injured worker workshop:
For information on the next workshop, contact 707-441-5723 or cferrero@dir.ca.gov.
Late for court?
E-mail us
Hearings are scheduled to start at the time indicated on the Notice of Hearing, at a specified hour between 9:00 a.m. and 3:30 p.m.
Getting to the courts
By bus:
By car:
Parking
Two-hour parking is available on "G" or "H" Streets and Second Street. All day parking is available on First Street and Second Street east of "H" Street. Off street parking is available in a lot at the Southeast corner of Second and "H" Streets.
There are four designated handicapped parking spaces in the alley between First and Second Street or the small lot at the northwest corner of Second and "H" Streets. Other parking in the alley between First and Second Streets is by permit, subject to tow away for non-permit holders.
Nearby eateries
Within one or two blocks are several reasonably priced restaurants open for lunch, serving pizza, sandwiches, California cuisine, fish and Italian.
September 2016
Division of Workers' Compensation (DWC)