Santa Rosa district office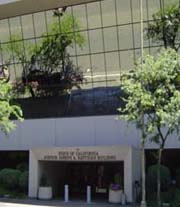 50 D Street, Room 420
Santa Rosa, CA 95404-4771
707-576-2391
Katie Boriolo,  presiding judge
General information
Units within the Santa Rosadistrict office:

| | |
| --- | --- |
| DWC Information Services Center: | 1-800-736-7401 |
| Disability accommodations: | 1-866-681-1459 |
| PRA information: | SROPRA@dir.ca.gov |
Zip code locator tool will help you locate the DWC district office serving your ZIP code.
Court hours
Court is in session:
8:30 a.m. to 12:00 p.m. morning session
1:30 p.m. to 5:00 p.m. afternoon session
Injured worker workshop:
Workshops are held via Zoom at 3 p.m. on the first Friday of every month in English and the third Friday of every month in Spanish.
Alternative filing during COVID-19:
E-mail us
To request a continuance
or to contact the office:
E-mail us
The building lobby is open Monday through Friday (except for holidays) from 8:00 a.m. to 5:00 p.m. Items may be date stamped and filed at the front counter in room 420.
Getting to the court
By bus:
By car:
Parking
A City of Santa Rosa parking garage is located directly across D Street from the entrance to the Joseph Rattigan building. All day parking rates are $0.75 per hour with an $8 per day maximum. Metered parking is available on both D Street and Second Street.
Nearby eateries
Vending machines are available on the first floor of the building.
The building is three blocks from Santa Rosa's main downtown area, where you will find a wide variety of coffee shops and restaurants. Within four blocks is the Santa Rosa Plaza which also has a number of fast food restaurants.
March 2023