Alternative Measures
What is Required from T8CCR 3314?
Under specified conditions some work activities are exempt from the Cal/OSHA lockout/tagout regulation (Title 8 CCR, Section 3314). Under these specific conditions lockout tagout is not required. These conditions are:
Condition
Requirements for employee protection
1. If the machinery or equipment must be capable of movement during cleaning, servicing, and adjusting operations in order to perform the specific task.
The employer shall minimize the hazard by providing and requiring the use of extension tools (eg., extended swabs, brushes, scrapers) or other methods or means to protect employees from injury due to such movement. Employees shall be made familiar with the safe use and maintenance of such tools, methods or means, by thorough training.
OR
2. Minor tool changes and adjustments, and other minor servicing activities, which take place during normal production operations are not covered by the requirements of Section 3314 if they are routine, repetitive, and integral to the use of the equipment or machinery for production.
The work must be performed using alternative measures which provide effective protection.
Best Practices -
Protecting Employees Using Alternative Measures
Performing cleaning, repairing, servicing, setting-up, adjusting, un-jamming or other work activities on energized equipment, machines or prime movers creates a very hazardous situation. The alternative measures used must provide effective protection to prevent employee exposure(s) and allow them to safely perform their work activities. The specific alternative measure(s) used to protect workers depends on the:
Machines, equipment and prime movers being worked on, and the
Work activities employees are performing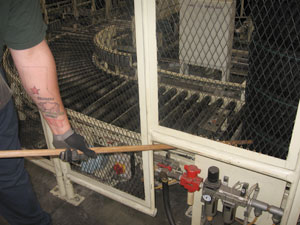 Using an extension tool to prevent employee injury
Examples of types of alternative measures include:
Extension tools
Specially designed tools
Remote devices (e.g., lubricators)
Interlocked gates and barriers
Local disconnects
Control switches which are under the exclusive control of the employee performing the work activity
Employees must be thoroughly trained on the alternative measures they use to protect themselves before they begin using them.