Oakland district office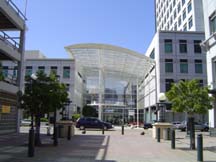 1515 Clay Street, 6th floor
Oakland, CA 94612-1519
510-622-2866
Gene Lam, presiding judge
General information
Units within the Oakland district office:
| | |
| --- | --- |
| DWC Information Services Center: | 1-800-736-7401 |
| Disability accommodations: | 1-866-681-1459 |
| PRA information: | OAKPRA@dir.ca.gov |
Zip code locator tool will help you locate the DWC district office serving your ZIP code.
Court hours
Court is in session:
8:30 a.m. to 12:00 p.m. morning session
1:30 p.m. to 5:00 p.m. afternoon session
Injured worker workshop:
Workshops are held via Zoom at 3 p.m. on the first Friday of every month in English and the third Friday of every month in Spanish.
Alternative filing during COVID-19:
E-mail us
To request a continuance
or to contact the office:
E-mail us
The court lobby will be open 30 minutes before the beginning of the court session, five days per week (except for holidays). Items may be date stamped and filed at the reception desk on the 6th floor.
Getting to the court
By train:
The Oakland City Center/12th Street BART station is about two blocks from the building. Proceed up the escalator to Frank H. Ogawa Plaza, past City Hall, to the Elihu Harris State Building.
By bus:
By car:
Building security
Visitors to the Elihu Harris building must pass through a metal detector and all belongings must go through an x-ray machine. Weapons and other dangerous objects are prohibited in the building. Please allow extra time to pass through security.
Parking
There are parking lots located across and behind the building that run between $12-$14 a day. Metered street parking is also available around the building.
Nearby eateries
On the second floor of the building, Café Gourmet Choice serves entrees, soups, burgers and salads.
Within walking distance are delis, burrito and sandwich shops, Japanese, Vietnamese, Thai and Italian restaurants, barbecue, cheesesteaks, pizza, coffee shops and fast-food restaurants.
Please do not bring food or drinks to the 6th floor.
March 2023