Van Nuys district office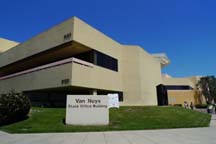 6150 Van Nuys Boulevard, Suite 105
Van Nuys, CA 91401-3370
818-901-5367
Sharon Velzy, presiding judge

General information
Units within the Van Nuys district office:

| | |
| --- | --- |
| DWC Information Services Center: | 1-800-736-7401 |
| Disability accommodations: | 1-866-681-1459 |
| PRA information: | VNOPRA@dir.ca.gov |
Zip code locator tool will help you locate the DWC district office serving your ZIP code.
Court hours
Court is in session:
8:30 a.m. to 12:00 p.m. morning session
1:30 p.m. to 5:00 p.m. afternoon session
Injured worker workshop:
Workshops are held via Zoom at 3 p.m. on the first Friday of every month in English and the third Friday of every month in Spanish.
Alternative filing during COVID-19:
E-mail us
To request a continuance
or to contact the office:
E-mail us
The court lobby will be open 30 minutes before the beginning of the court session, five days per week (except for holidays). Items may be date stamped and filed at the information desk in the lobby.
Children should not be brought to court.
Getting to the court
By train:
The Metro Orange Line lets off at the Van Nuys station. The building is a short walk north on Van Nuys Blvd on the corner of Van Nuys Blvd. and Calvert Street.
By bus:
By car:
Parking
There is limited parking available in the building parking structure. There is a private parking lot adjacent to the building. There is also metered on-street parking available. Most meters directly surrounding the building have a 2 hour maximum. Extended metered parking (up to a 10 hour maximum) is available on Calvert Street just east of the building.
Parking in the state building is $9 per day
Calvert Street, adjacent to the building is $10 per day
Nearby eateries
On the first floor of the state building is a café with breakfast and daily hot lunch specials for affordable prices.
There are a number of affordable fast food restaurants across from the building. Within a short driving distance heading south on Van Nuys Blvd. are several fast food restaurants, coffee shops and delis.
March 2023