Santa Barbara - Satellite office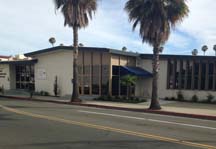 130 East Ortega Street
Santa Barbara, CA 93101
(805) 884-1032
Robert Hjelle, presiding judge
General information
Santa Barbara is a satellite of the Oxnard District Office. OCR documents are scanned in the Oxnard office and may be filed in Oxnard or at either location used by the Santa Barbara office (411 E. Canon Perdido Street, Suite 2, or 130 East Ortega Street).
In addition to the 130 Ortega Street address, the Santa Barbara office also continues to utilize its former location at 411 E. Canon Perdido for Information & Assistance services. In the near future, the Canon Perdido office will be closed and all services will be provided at the Ortega Street address.
Units within the Santa Barbara satellite office:

| | |
| --- | --- |
| Recorded information: | 1-800-736-7401 |
| Disability accommodations: | 1-866-681-1459 |
Zip code locator tool will help you locate the DWC district office serving your ZIP code.
Court hours
Court is in session:
8:30 a.m. to 12:00 p.m. morning session
1:30 p.m. to 5:00 p.m. afternoon session
Injured worker workshop:
Held the first Thursday of each month at 1:00 pm.
Late for court?
E-mail us
The court lobby will be open 30 minutes before the beginning of the court session, five days per week (except for holidays). Items may be date stamped and filed at the information desk in the lobby.
No judges are available on Fridays to handle walk through items.
Children should not be brought to court.
Getting to the court
By bus:
MTD services (805) 963-3366 fare $1.75, Coastal Express Limited (805) 883-4276 $4.00, Clean Air Express (805) 692-1902 $7.00
By car:
Parking:
Canon Perdido location: Street parking only, with a limit of 90 minutes. Do not park in the lot adjacent to the building, as it is reserved for tenants with permits only. Parking in the lot may result in your car being towed.
Ortega location: Free parking is available behind the building off Santa Barbara Street (a one-way street).
Nearby eateries:
Canon Perdido location: There are several places to eat within walking distance or a short drive away, including Olio e Limone Ristorante, The Habit Burger Grill, Jeannine's Bakery, Savoy Cafe & Deli, Lilly's Taqueria, and The Neighborhood Bar & Grill
Ortega Street location: Food, drinks, and shopping are available on State Street, two blocks away.
August 2015