Santa Barbara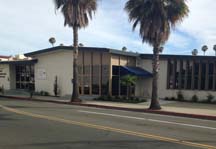 130 E Ortega St
Santa Barbara, CA 93101-7538
(805) 568-1390
Scott Seiden, presiding judge
General information
Units within the Santa Barbara office:

| | |
| --- | --- |
| DWC Information Services Center: | 1-800-736-7401 |
| Disability accommodations: | 1-866-681-1459 |
| PRA information: | SBAPRA@dir.ca.gov |
Zip code locator tool will help you locate the DWC district office serving your ZIP code.
Court hours
Court is in session:
8:30 a.m. to 12:00 p.m. morning session
1:30 p.m. to 5:00 p.m. afternoon session
Injured worker workshop:
Workshops are held via Zoom at 3 p.m. on the first Friday of every month in English and the third Friday of every month in Spanish.
Alternative filing during COVID-19:
E-mail us
To request a continuance
or to contact the office:
E-mail us
The court lobby will be open 30 minutes before the beginning of the court session, five days per week (except for holidays). Items may be date stamped and filed at the information desk in the lobby.
You may walk through a request directly with Judge Seiden, who is available Monday through Friday 8:30 a.m. - 5:00 p.m. or in Oxnard if Judge Seiden is unavailable.
Children should not be brought to court.
Getting to the court
By bus:
MTD services (805) 963-3366 fare $1.75, Coastal Express Limited (805) 883-4276 $4.00, Clean Air Express (805) 692-1902 $7.00
By car:
Parking:
Free parking is available behind the building off Santa Barbara Street (a one-way street).
Nearby eateries:
Food, drinks, and shopping are available on State Street, two blocks away.
April 2023