San Luis Obispo district office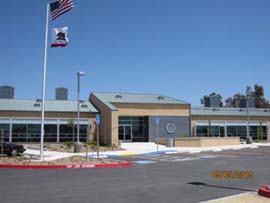 4740 Allene Way, Suite 100
San Luis Obispo, CA 93401-8736
805-596-4153
Michael LeCover, presiding judge
General information
Units within the San Luis Obispo district office:

| | |
| --- | --- |
| Recorded information: | 1-800-736-7401 |
| Disability accommodations: | 1-866-681-1459 |
Zip code locator tool will help you locate the DWC district office serving your ZIP code.
Court hours
Court is in session:
8:30 a.m. to 12:00 p.m. morning session
1:30 p.m. to 5:00 p.m. afternoon session
Injured worker workshop:
Held the first Tuesday of every month at 1:30 p.m.

Late for court?
E-mail us
The court lobby opens at 8:00 a.m. five days a week (except holidays). Items may be date stamped and filed at the front desk in the lobby.
Getting to the court
By bus:
By car:
Parking
Free parking is available.
Nearby eateries
There are several places to eat within walking distance or a short drive away, including Carl's Jr., Taco Bell, Cuginis Pasta, Vons and Starbucks.
July 2017