San Francisco district office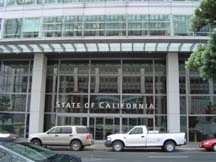 455 Golden Gate Avenue, 2nd Floor
San Francisco, CA 94102-7014
415-703-5020
Eugene Gogerman, presiding judge
General information
Units within the San Francisco district office:

| | |
| --- | --- |
| DWC Information Services Center: | 1-800-736-7401 |
| Disability accommodations: | 1-866-681-1459 |
| PRA information: | SFOPRA@dir.ca.gov |
Zip code locator tool will help you locate the DWC district office serving your ZIP code.
Court hours
Court is in session:
8:30 a.m. to 12:00 p.m. morning session
1:30 p.m. to 5:00 p.m. afternoon session
Injured worker workshop:
Workshops are held via Zoom at 3 p.m. on the first Friday of every month in English and the third Friday of every month in Spanish.
Alternative filing during COVID-19:
E-mail us
To request a continuance
or to contact the office:
E-mail us
The building may be entered at either 455 Golden Gate or 350 McAllister. The court is adjacent to the entrance on the Golden Gate side of the building.
The court lobby is open 8:00 a.m. to 5 p.m. five days per week (except for holidays).
Items may be date stamped and filed at the information window on the second floor.
Children should not be brought to court.
Getting to the court
By train:
Both BART and MUNI Metro trains stop at the Civic Center station, approximately two blocks away from the building.
By bus:
MUNI bus information, schedules and costs.
By car:
Building security
The San Francisco district office is located in the Hiram W. Johnson State Office Building, which has an advanced security screening system. Visitors must pass through a metal detector and all belongings must go through an x-ray machine. Weapons and other dangerous objects are prohibited in the building. Please allow extra time to pass through security.
Parking
There are several parking lots and garages in the area, but parking can be expensive. The UC Law San Francisco parking garage is adjacent to the building at 376 Larkin (at Golden Gate) and has rates from $22 to $32 per day. The Civic Center Garage across from the building entrance on McAllister Street is $20 to $35 a day.
Nearby eateries
Every Wednesday, within two blocks of the court, the Heart of the City Farmers' Market offers fresh, healthy prepared food, again at affordable prices. Also within one block are Subway Sandwiches, Lee's Sandwiches, Taco Bell/KFC, and several other small eateries. A few blocks south on Market Street are several restaurants as well. Within a four-block radius there are more than 30 places to get a quick lunch.
March 2023