San Bernardino district office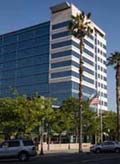 464 W. Fourth Street, Suite 239
San Bernardino, CA 92401-1411
909-383-4341
Jody Eaton, presiding judge
General information
Units within the San Bernardino district office:

| | |
| --- | --- |
| DWC Information Services Center: | 1-800-736-7401 |
| Disability accommodations: | 1-866-681-1459 |
| PRA information: | SBRPRA@dir.ca.gov |
Zip code locator tool will help you locate the DWC district office serving your ZIP code.
Court hours
Court is in session:
8:30 a.m. to 12:00 p.m. morning session
1:30 p.m. to 5:00 p.m. afternoon session
Injured worker workshop:
Workshops are held via Zoom at 3 p.m. on the first Friday of every month in English and the third Friday of every month in Spanish.
Alternative filing during COVID-19:
E-mail us
To request a continuance
or to contact the office:
E-mail us
The court lobby is open from 8:00 a.m. to 5:00 p.m. five days a week (except for holidays).
Walk-through hours are 8:00 a.m. to 11:00 a.m. and 1:00 p.m. to 4:00 p.m. Monday through Friday.
Children should not be brought to court.
Smoking is permitted outside only in designated outdoor areas.
Getting to the court
By bus:
By car:
Building security
The San Bernardino district office is located in the Rosa Parks building. All visitors are required to check in at the security desk upon entry into the building. Visitors are required to sign in and show a picture I.D.
Parking
The state parking structure north of the Rosa Parks building is $5 per day. There is free parking located in a public lot one block from the building.
Nearby eateries
On the first floor of the building is a small café that offers take-out food. There is not seating at the first floor café.
Within a block of the building are Subway Sandwiches and Jack in the Box.

No food, gum or drink (other than bottled water) is allowed in the waiting room or hearing rooms.
April 2023