Sacramento district office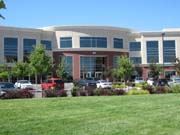 160 Promenade Circle, Suite 300
Sacramento, CA 95834-2962
916-928-3101
Noah Tempkin, presiding judge
General information
Units within the Sacramento district office:

| | |
| --- | --- |
| DWC Information Services Center: | 1-800-736-7401 |
| Disability accommodations: | 1-866-681-1459 |
| PRA information: | SACPRA@dir.ca.gov |
Zip code locator tool will help you locate the DWC district office serving your ZIP code.
Court hours
Court is in session:
8:30 a.m. to 12:00 p.m. morning session
1:30 p.m. to 5:00 p.m. afternoon session
Injured worker workshop:
Workshops are held via Zoom at 3 p.m. on the first Friday of every month in English and the third Friday of every month in Spanish.
Alternative filing during COVID-19:
E-mail us
To request a continuance
or to contact the office:
E-mail us
The court is located on the 3rd floor. The court lobby opens at 8:00 a.m. five days a week (except holidays).
Children should not be brought to court.
Walk-through hours are 8:00 a.m. to 11:00 a.m. and 1:00 p.m. to 4:00 p.m. Monday through Friday. Appropriate walk-throughs are available (either during judge walk-through calendars or as designated by the Presiding Judge). Walk-throughs are assigned out to designated judges by front office staff at time of walk-through.
Getting to the court
By bus:
By car:
Building security
The district office is patrolled by an onsite CHP officer. In addition, the parking lots adjacent to the building are patrolled by a security service.
Weapons or other dangerous objects may not be brought into the building.
Nearby eateries
There are several places to eat within walking distance or a short drive away, including Beach Hut Deli, BJ's Restaurant, Mimi's and Panera Bread. Starbucks can be found at the Barnes and Noble or Target stores nearby.
No food, gum or drink (except bottled water if necessary) is allowed on the 3rd floor in the hallways, lobbies or courtrooms.
March 2023