Marina del Rey district office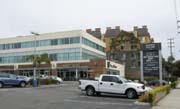 4720 Lincoln Boulevard, 2nd floor
Marina del Rey, CA 90292-6902
310-482-3820
Cirina Rose, presiding judge
General information
Units within the Marina del Rey district office:

| | |
| --- | --- |
| DWC Information Services Center: | 1-800-736-7401 |
| Disability accommodations: | 1-866-681-1459 |
| PRA information: | MDRPRA@dir.ca.gov |
Zip code locator tool will help you locate the DWC district office serving your ZIP code.
Court hours
Court is in session:
8:30 a.m. to 12:00 p.m. morning session
1:30 p.m. to 5:00 p.m. afternoon session
Injured worker workshop:
Workshops are held via Zoom at 3 p.m. on the first Friday of every month in English and the third Friday of every month in Spanish.
Alternative filing during COVID-19:
E-mail us
To request a continuance
or to contact the office:
E-mail us
The court lobby will be open 30 minutes before the beginning of the court session. The district office's court lobby is open five days per week (except for holidays). Items may be date stamped and filed at the information desk in the lobby.
Walk-through documents are expected to comply with 8 CCR section 10417(c). Walk-through hours are 8:00 a.m. to 11:00 a.m. and 1:00 p.m. to 4:00 p.m. Monday through Friday.
Children should not be brought to court.
Getting to the court
By train:
By car:
Parking
There is parking in the building. Please do not park in the "retail only" area. All visitors of the court must park in the paid parking area for $15.50 per day.
The Marina parking lot #4 on Mindanao Way is between $6-$8 per day.
Nearby eateries
On the first floor of the building are Panera Bread, Peet's Coffee, Penguin's Frozen Yogurt, Subway Sandwiches and Wahoo's Fish Taco.
Within a block of the court are McDonalds, Ralphs Market Deli, California Pizza Kitchen, Starbucks, Counter, Pinkberry Frozen Yogurt, Chipotle Mexican Grill, Mendocino Farms and Fresh Brothers Pizza. Within a four block radius there are probably 30 more places to get a quick lunch.
No food, gum or drink (other than bottled water) is allowed on the 3rd floor in the hallways, lobbies or courtrooms. Violators may be sanctioned for non-compliance.
April 2023