Los Angeles district office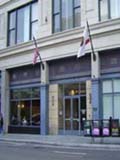 320 W. 4th Street, 9th floor
Los Angeles, CA 90013-1954
213-576-7335
Robert Rassp, presiding judge
General information
Units within the Los Angeles district office:
| | |
| --- | --- |
| DWC Information Services Center: | 1-800-736-7401 |
| Disability accommodations: | 1-866-681-1459 |
| PRA information: | LAOPRA@dir.ca.gov |
Zip code locator tool will help you locate the DWC district office serving your ZIP code.
Court hours
Court is in session:
8:30 a.m. to 12:00 p.m. morning session
1:30 p.m. to 5:00 p.m. afternoon session
Injured worker workshop:
Workshops are held via Zoom at 3 p.m. on the first Friday of every month in English and the third Friday of every month in Spanish.
Alternative filing during COVID-19:
E-mail us
To request a continuance
or to contact the office:
E-mail us
The court lobby will be open 30 minutes before the beginning of the court session.
Children should not be brought to court.
The district office's court lobby is open five days per week (except for holidays). Items may be date stamped and filed at the information desk in the lobby.
Walk-through hours are 8:00 a.m. to 11:00 a.m. and 1:00 p.m. to 4:00 p.m. Monday through Friday. We apologize for any increased wait time before the court can hear your cases or process your documents. Please let the court know if you feel your case is an emergency and we will do whatever is possible to assist you.
Getting to the court
By train:
The Metrolink Red Line lets off at Pershing Square station. Take the 4th Street stairwell and you will come up directly across the street from the court.
By bus:
By car:
Building security
The Los Angeles district office is located in the Junipero Serra building, which has an advanced security screening system. All non-staff must pass through a metal detector, and pass their belongings through an x-ray machine. Weapons or other dangerous objects may not be brought into the building. Please allow extra time to pass through security.
Priority screening
Priority screening privileges are available for attorneys, hearing representatives and interpreters with an approved identity badge. Obtaining a priority screening badge is strictly voluntary. Persons with an approved identification badge will be allowed to go to the front of the security line when entering the building on the 1st floor, during the 45 minutes before court opens at 8:30 a.m. and reopens at 1:30 p.m. Those arriving after 8:30 a.m. or 1:30 p.m. will be required to wait in line with the public.
Instructions on how to get a badge are posted on the bulletin boards throughout the court.
Parking
There is no long-term street parking available near the Los Angeles office. One should expect to be towed if one parks and overstays the time limits for street parking. Available parking can be found in open parking lots and in parking structures. The rates are expressed in terms of several dollars per hour with a maximum at a certain amount. The maximums are listed as court appearances are usually long enough that one should expect to pay the daily maximum.
The closest parking is adjacent to the building at $13 maximum per day. Also, directly across the street the maximum is at $12 per day. Around the corner on Hill Street between 4th and 5th Streets is a very large parking lot that charges $14 per day. All three of these lots periodically close without warning to accommodate Hollywood film productions leaving parties to find parking a block or two away.
Some of the further lots are at:
On 4th Street between Broadway and Spring Streets there are two parking lots that charge $8 and $9 per day. Just to the South on Spring Street is a parking structure that charges $5 per day.
Further away on Spring Street between 4th and 3rd Streets is a parking structure across the street from the Ronald Reagan State Building that charges $ 10 per day. At 3rd and Spring are two lots and one structure that charge $9 per day. At 2nd and Spring are two lots that charge $7 and $9 per day.
In back of the Ronald Reagan State Building on Main Street between 2nd and 3rd Streets is a very large lot that charges $6 per day. Just to the South on Main and 4th next to the Ronald Reagan State Building is a lot that charges $9 per day.
Some of these lots have coin or cash slots or machines that vend tickets instead of parking attendants. Many of the less expensive lots fill up quickly. Others are closed without notice to be used as staging areas for Hollywood film crews. Arriving early is highly recommended. Public transportation is often less expensive than parking.
Nearby eateries
On the first floor of the building is a café with fresh sandwiches and daily hot lunch specials for very affordable prices.
Within half block of the court is the Grand Central Market where every kind of fast food is available, again at affordable prices. Also within one block are Subway Sandwiches, First Cup Restaurant, El Pollo Loco, and several other small eateries. Within a four block radius there are probably 30 more places to get a quick lunch.
No food, gum or drink (other than bottled water) is allowed on the 9th floor in the hallways, lobbies or courtrooms. Violators may be sanctioned $100. So, finish your coffee, food and toss your gum before taking the elevators to the 9th floor.
March 2023