Fresno district office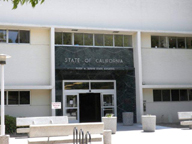 2550 Mariposa Mall, Suite 4078
Fresno, CA 93721-2219
559-445-5051
Terry Menefee, presiding judge
General information
Units within the Fresno district office:

| | |
| --- | --- |
| Recorded information: | 1-800-736-7401 |
| Disability accommodations: | 1-866-681-1459 |
Zip code locator tool will help you locate the DWC district office serving your ZIP code.
Court hours
Court is in session:
8:30 a.m. to 12:00 p.m. morning session
1:30 p.m. to 5:00 p.m. afternoon session
Injured worker workshop:
Held the fourth Friday of every month at 9:00 a.m.

Late for court?
E-mail us
The court lobbies located on the 4th and 5th floors will be open 30 minutes before the beginning of the court session, five days per week (except for holidays). Items may be date stamped and filed at the counter in the main lobby on the 4th floor.
The attendance of children is discouraged. Please do not bring children to court unless absolutely necessary.
No judges are available on Fridays to handle walk through items. We apologize for any increased wait time before the court can hear your cases or process your documents. Please let the court know if you feel your case or documents are an emergency and we will do whatever is possible to assist you.
Getting to the court
By train:
Amtrak is located two blocks from the district office.
By bus:
By car:
Building security
The Fresno district office is located in the Hugh M. Burns building. There is a security station located on the 1st floor at the building entrance.
Parking
There is metered parking adjacent to and across the street from the Hugh M. Burns building, as well as within easy walking distance. The parking is located as follows:
10 hour meters are located on "O" Street, between Mariposa and Fresno Streets

2 hour meters are located adjacent and across the street on "O" Street

2 hour meters are located adjacent and across the street on "P" Street

Metered parking is also available in the Promenade parking lot on Tulare next to the Amtrak Station.
December 2018