What Can Happen to You
RISKY BUSINESS

"A guy I knew of was walking down the road behind a heavy hauler truck. He came to do maintenance on it. While standing behind the truck, it slid back and hit and killed him"



"I worked in a construction site and one of my coworkers was backing up a backhoe without letting me know and almost crushed me because he couldn't see me"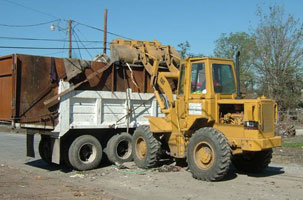 Construction sites are busy worksites with heavy construction equipment performing hauling, grading, digging, dumping, and other activities. Flaggers and other workers on foot are at risk when working around this equipment. A moment of inattention can be costly. Hazards when working around heavy equipment include: being struck, crushed, run over or even getting killed.
By getting trained and using the information provided for you here you have the opportunity to get the job done and protect yourself.

How to Keep Yourself Safe
You are responsible for following the training and safe work practices of your teachers and employers.
1. Get Trained On
The safety of workers on foot around heavy construction equipment
Recognizing hazards and ways to avoid them
Knowing signs, signals, and respecting barricades. If you don't know or you're not sure, ask your teacher or foreman before going to the work zone
2. Make Good Choices
Follow traffic control plans as discussed by your teacher or foreman
Do not enter unauthorized work zones unless your teacher or foreman allows you to go in
Walk around areas where heavy equipment is working only if it is absolutely necessary for you to be there
Wear Your Personal Protection Equipment (PPE) at all times- for example your hard hat and eye protection
Wear appropriate footwear for the terrain and weather conditions
Wear clothing that is highly visible during any weather conditions. This clothing may include full retroreflective vest and pants, retroreflective gloves and arm bands and other accessories. If you do not have any of these items tell your teacher or foreman right away and ask them to provide you with the retroreflective clothing and accessories


Do not wear hooded apparel that can obstruct your vision
Be attentive and know what is going on around you at all times.

Always keep a safe distance and stand clear of heavy equipment and other vehicles

Never position yourself in the path of a vehicle that is backing up or in the driver's blind spot

Pay attention and listen for backup alarms
Do not rush, daydream or "horse around"
Do not use your cell phone when you are near vehicles or heavy equipment

Do not ride on equipment not intended for passengers
If you must work near vehicle or heavy equipment, be sure to communicate and/or make positive eye contact with the operator

If you cannot see the operator's eyes of the heavy equipment/vehicle, he/she cannot see you. If you can not see into their eyes and they can not see into your eyes, move away to a safe area.
Warn others if you recognize that a dangerous situation is developing
If you suffer an injury, report it right away to your teacher or foreman

For more information on how to keep yourself safe, read Best Practices, Training Topics for Teachers and Employers.