A. KNOW YOUR JOB
Before you select a tool, think about the job you will be doing. Tools are designed for specific purposes. Using a tool for something other than its intended purpose often damages the tool and could cause you pain, discomfort, or injury. You reduce your chances of being injured when you select a tool that fits the job you will be doing.
The list of tools in each category shows a few examples of tools that are most frequently used.
Cutting, pinching, gripping tools
Examples:

Striking tools
Example:

Driving tools
Examples:

Screwdrivers
Hand wrenches
Nut drivers
T-handle wrenches
Struck or hammered tools
Examples: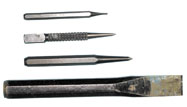 Punches
Chisels
Nail sets
Next, consider whether you need the tool to provide power or precision. Then select the tool with the correct handle diameter or grip span.
FOR POWER TASKS
Single-Handle Tools
Double-Handle Tools
HANDLE DIAMETER for power tasks is 1 1/4 inches to 2 inches

OPEN GRIP SPAN for power tasks is not more than 3 1/2 inches

CLOSED GRIP SPAN for power tasks is not less than 2 inches

FOR PRECISION TASKS
Single-Handle Tools
Double-Handle Tools
HANDLE DIAMETER for precision tasks is 1/4 inch to 1/2 inch

OPEN GRIP SPAN for precision tasks is not more than 3 inches

CLOSED GRIP SPAN for precision tasks is not less than 1 inch

---
HOME --- PREVIOUS --- NEXT