NEWS RELEASE
California Celebrates National Apprenticeship Week
Sacramento—Governor Newsom has issued a proclamation recognizing the 9th Annual National Apprenticeship Week (NAW) this year from November 13-19. The Department of Industrial Relations' Division of Apprenticeship Standards (DAS) is honored by this recognition of the registered apprenticeship model as a driving force of economic vitality, celebrating the vibrant tapestry of skills and professions that apprentices are mastering.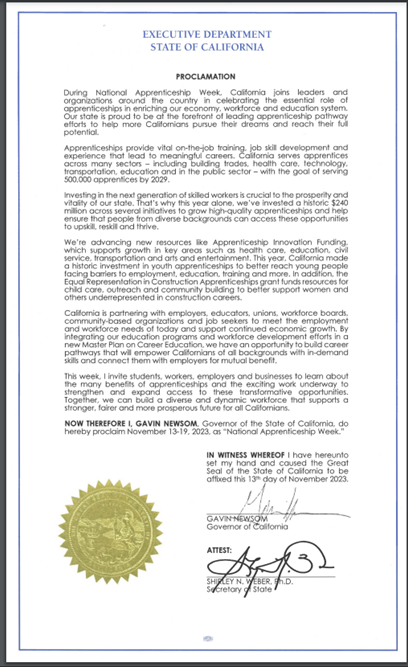 California is proud to be at the forefront of leading registered apprenticeship pathways efforts. This year alone, California has invested a historic $240 million into apprenticeships across many initiatives, including the Equal Representation in Construction Apprenticeships (ERiCA) grant, the California Opportunity Youth Apprenticeship Grant, and the Apprenticeship Innovation Funding that supports growth in areas such as healthcare, education, and civil service.
During National Apprenticeship Week, representatives from DAS will be joining local education agencies, community-based organizations, workforce development boards, trade unions, employers, government agencies, and intermediaries that are hosting events to spotlight the transformative power of registered apprenticeships. Find these and many more events on the US Department of Labor's National Apprenticeship Week website.
"We invite all Californians to share in the success stories, accomplishments, and brighter futures being forged through registered apprenticeships," said DIR Director Katie S. Hagen. "As we applaud the hardworking individuals, intermediaries, and employers of California apprenticeship programs, we reaffirm our commitment to advancing our state toward our Governor's ambitious goal of serving 500,000 apprentices by 2029."
In California, multiple events are underway, including the celebration of innovative programs, apprentices sharing their inspiring stories, employers opening their doors to prospective apprentices through job fairs and open houses, and the recognition of individual achievements.
Established by the U.S. Department of Labor, National Apprenticeship Week showcases the impact that registered apprenticeship programs have in advancing racial and gender equity, supporting underserved communities and re-building our economy. Events are taking place throughout California. To learn more visit www.apprenticeship.gov/NAW.

The Department of Industrial Relations' Division of Apprenticeship Standards consults with employers to develop a skilled workforce, by establishing innovative apprenticeship programs that offer training, to create viable career pathways for Californians.

Media Contact: Communications@dir.ca.gov, (510) 286-1161
---