School Action for Safety and Health (SASH) Program

SASH Program: A California Initiative to Promote Safe and Healthy Workplaces for California's School Employees
California school districts face a number of occupational safety and health issues that affect school employees. Cal/OSHA fines school districts when health and safety issues result in violations of Cal/OSHA standards, e.g., not having a written Injury and Illness Prevention Program (IIPP) in which employees have also not been trained.
CHSWC established a Schools Injury and Illness Prevention Program (IIPP) model program, the California School Action for Safety and Health (SASH), to help schools statewide improve their injury and illness prevention practices. The program includes training and resources to enable schools or school districts to develop or improve IIPPs and to make other health and safety improvements that will help protect school or school district employees from workplace injuries and illnesses. The target audience focuses on K-12 schools and school districts at high risk of occupational injury and illness. Maintenance and operations departments, school employees and managers are working collaboratively to address these problems.
In addition, Labor code 6434 establishes that school districts may apply for a refund of their civil penalty, with interest, if all conditions previously cited have been abated, they have abated any other outstanding citation, and if they have not been cited by Cal/OSHA for a serious violation at the same school within two years of the date of the original violation.
For more information about the SASH Resource Center at LOHP at UC Berkeley and the Southern California training partner, at LOSH at UCLA.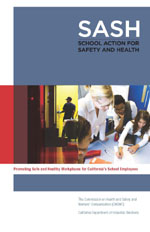 How the SASH Program Helps Schools
The School Action for Safety and Health (SASH) Program is a statewide initiative to help school districts reduce the high rate of work-related injuries and illnesses among school employees.
The SASH program offers:
A free training program to help build the capacity of district-level health and safety coordinators to be resources to other employees and develop an injury and illness prevention program to identify, prevent and eliminate hazards.
Written materials that support injury and illness prevention activities.
Problem-solving assistance provided in an ongoing manner by a statewide resource center.
Once participants complete the training program, trainees become "SASH Coordinators" for their district and receive a certificate from the Commission on Health and Safety and Workers' Compensation and the University of California.
Promotion:
California Covid-19 Resources for Schools:
Other Resources:
Acknowledgements
CHSWC convenes an advisory board to help identify emerging issues and share best practices from varying school employee safety and health perspectives. We would like to thank the SASH Advisory Board members for their guidance and development of the SASH program.
The SASH Program thanks the following agencies and organizations for their involvement in shaping the SASH Program activities and materials:
August 2023