Department of Industrial Relations (DIR)
Department of Industrial Relations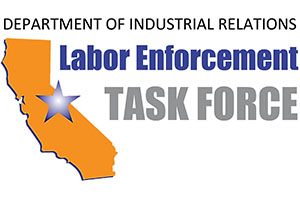 What makes a good lead for The Labor Enforcement Task Force (LETF)
LETF enforcement efforts benefit from lead referrals from the public to fulfill our mission of protecting California's workers and leveling the playing field for businesses.
Below you will find a guide that explains what would make a good lead for LETF and information that would be helpful for possible investigation. All leads are processed and investigated by a priority system. You can report anonymously, but giving contact information is helpful for follow-up questions and may determine whether we are able to investigate the lead or not.
As an employee in the State of California, you have the right to speak to representatives of the office of the California Labor Commissioner or any other government or law enforcement agency about any issues affecting your working conditions. Your employer cannot legally fire, demote, suspend, or discipline you for answering any questions or providing any information to a government agency. For further information, click on one of the following ( English /Spanish / Korean).
Is the employer breaking the law?
If you are uncertain if an employer is breaking the law, here are some basic questions to consider:
Is the employer providing itemized statements to employees?
Is the employer paying minimum wage and overtime?
Do all employees have workers' compensation insurance?
Does the employer provide a safe working environment for employees?
Is the employer correctly reporting wages to EDD and paying payroll taxes?
Is the employer operating with the appropriate licenses or registration?
Is the employer correctly classifying all workers as employees, rather than independent contractors?
If the answer is "No" to any of these questions, please contact us and we can advise you on whether the employer is actually breaking the law. If appropriate, we will initiate an investigation.
LETF will review all reported cases of unlawful activity and will handle each case appropriately regardless of the industry sector. LETF focuses on low-wage industries and high-hazard occupations.
Details
Please provide as many of the following details as possible:
Name of registered business or individual employer
The "DBA" (Doing Business As) name, if different from the registered business name
Business telephone number
The number of employees
How long the unlawful activity has been going on
Business Location
Please be specific on where the employer and employees are located and if this is likely to change in the near future. In some cases, the registered business address is different from where the employer and employees are actually working. We need to be able to locate where the employer and the employees are currently operating.
The address where employer and employees can be observed and located.
If the employer is involved in an ongoing project, how long will the project last? Will the employer be working at another site tomorrow?
Evidence and Witnesses
Gathering evidence is crucial to the successful prosecution of non-compliant employers.
Evidence can include the following:
Physical evidence, such as payroll records or a written contract that would prove unlawful activity.
Pictures, emails, or video recordings
Names and contact details of other witnesses or employees who have also witnessed the employer engaging in unlawful activity.
Please inform us of any evidence that is available.
Thank you for helping to make California a safer place to work and a better place to do business.
Call the LETF Public Hotline anytime: 855-297-5322
Email us at: letf@dir.ca.gov