Los Angeles district office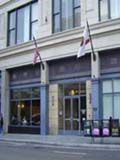 320 W. 4th Street, 9th floor
Los Angeles, CA 90013
213-576-7335
Eileen O'Kane, presiding judge
General information
Units within the Los Angeles district office:
Recorded information:
1-800-736-7401

Disability accommodations:
1-866-681-1459
Zip code locator tool will help you locate the DWC district office serving your ZIP code.
Court hours
| | |
| --- | --- |
| Court is in session: | 8:30 a.m. to 12:00 p.m. morning session |
| | 1:30 p.m. to 5:00 p.m. afternoon session |
| Injured worker workshop: | Held the second Wednesday of every month at 10:00 a.m. |
| Late for court? | E-mail us |
The court lobby will be open 30 minutes before the beginning of the court session.
Children should not be brought to court.
The district office's court lobby is open five days per week (except for holidays). Items may be date stamped and filed at the information desk in the lobby.
No judges are available on Fridays to handle walk through items. We apologize for any increased wait time before the court can hear your cases or process your documents. Please let the court know if you feel your case is an emergency and we will do whatever is possible to assist you.
Getting to the court
By train:
The Metrolink Red Line lets off at Pershing Square station. Take the 4th Street stairwell and you will come up directly across the street from the court.
By bus:
Metro bus routes information schedules and costs.
By car:
Driving directions to the Los Angeles district office.
Building security
The Los Angeles district office is located in the Junipero Serra building, which has an advanced security screening system. All non-staff must pass through a metal detector, and pass their belongings through an x-ray machine. Weapons or other dangerous objects may not be brought into the building. Please allow extra time to pass through security.
Priority screening
Priority screening privileges are available for attorneys, hearing representatives and interpreters with an approved identity badge. Obtaining a priority screening badge is strictly voluntary. Persons with an approved identification badge will be allowed to go to the front of the security line when entering the building on the 1st floor, during the 45 minutes before court opens at 8:30 a.m. and reopens at 1:30 p.m. Those arriving after 8:30 a.m. or 1:30 p.m. will be required to wait in line with the public.
Instructions on how to get a badge are posted on the bulletin boards throughout the court.
Parking
There is parking adjacent to and across the street from the Junipero Serra building, and within easy walking distance of the Junipero Serra building, but parking can be expensive.
4th & Hill, adjacent to the building is $14 per day

4th & Hill, directly across from the building is $12 per day

4th & Broadway is $10 per day

4th & Spring Street is $5 per day

3rd & Hill is $9 per day
Nearby eateries
On the first floor of the building is a café with fresh sandwiches and daily hot lunch specials for very affordable prices.
Within half block of the court is the Grand Central Market where every kind of fast food is available, again at affordable prices. Also within one block are Subway Sandwiches, First Cup Restaurant, El Pollo Loco, and several other small eateries. Two blocks south on 4th Street is Rocket Pizza. Within a four block radius there are probably 30 more places to get a quick lunch.
No food, gum or drink (other than bottled water) is allowed on the 9th floor in the hallways, lobbies or courtrooms. Violators may be sanctioned $100. So, finish your coffee, food and toss your gum before taking the elevators to the 9th floor.
October 2012