Electronic Adjudication Management System (EAMS) - bulk filing and access project

The Electronic Adjudication Management System (EAMS) was deployed in August 2008. Currently, filers must submit either by OCR paper forms or electronic e-forms, which require the use of a logon. Special Project Report (SPR) 3, submitted in June of 2008, called for additional funding to increase logon access to the system for external users. This portion of the project was deferred as DWC gathered more information needed to secure the funding.
During the process of gathering the required information, and as a direct result of input from the external user community, the EAMS team recognized the need to increase access to portions of the system in the present term.
To fulfill this need, DWC and a working group of claims administrators, attorneys, service providers, lien claimants and others started work in February 2010 on a "present term solution" which includes bulk electronic filing and expanded access to public case file information available on the DWC Web site without a logon. This project is part of DWC's strategy to expand electronic filing and access to public case file information using a phased approach that meets external users' principal needs and minimizes manual processing, while moving toward the goal of full electronic access to EAMS.
The plan consists of two major components:
Bulk filing of six priority forms through Secure File Transport Protocol (SFTP), a network methodology standard for securely exchanging encrypted data over the Internet
Access to public information about adjudication cases on the DWC Web site.
Both of these components are based on needs expressed by external users during working group meetings and through survey responses.
Bulk electronic filing adds a third filing method to EAMS, which will directly benefit high volume users who are able to immediately take advantage of bulk filing capabilities and will indirectly benefit other users still filing on paper by reducing the overall volume of paper processed at DWC district offices. E-form filers already enjoy the many advantages that come from electronic filing. DWC's bulk filing process is called JET File.

The EAMS forms included in JET File are:
Application for Adjudication of Claim
Declaration of Readiness to Proceed (to Hearing)
Declaration of Readiness to Proceed (to Expedited Trial)
Compromise and Release
Stipulations with Request for Award
Notice and Request for Allowance of Lien
Once funded, DWConnect, a project to connect external users electronically with the workers' compensation court system, will expand JET File to include all forms.
Development timeline
The project is scheduled to be completed in 2011. However, each component of the project has gone live as it has been completed. The last portion of the project is user acceptance testing (UAT) for JET File. Once that is complete, JET File will go live. (Double click on the ticker graphic image below to increase viewing size.) The ticker is continuously updated so that external users can mark the project's progress.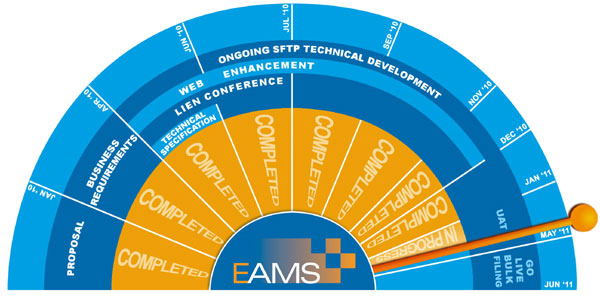 Technical specifications
EAMS PTS document repository
EAMS homepage
May 2011
Division of Workers' Compensation (DWC)