Commission on Health and Safety and Workers' Compensation (CHSWC)
The Worker Occupational Safety and Health Training and Education Program (WOSHTEP)
Multilingual Health & Safety Resource Guide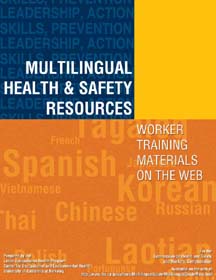 This guide is a collection of links to worker training materials such as fact sheets, checklists, and other educational resources that are available online and can be printed to distribute to workers participating in workplace injury and illness prevention programs.
You may print or view the full text of the Multilingual Health & Safety Resource Guide. You may also go to the LOHP page for future updates.
These materials are arranged in two ways to assist you in quickly finding appropriate training aids: by topic and by language.
At the end of the Guide, you'll find a listing of web sites with multilingual materials that contain additional health and safety information and resources in other languages.
The Guide is designed to complement the statewide Worker Occupational Safety and Health Training and Education Program (WOSHTEP). The Guide was prepared by the Labor Occupational Health Program at UC Berkeley for the Commission on Health and Safety and Workers' Compensation. Please review each document before using it to be sure it is appropriate for your audience.
July 2009