Effective Training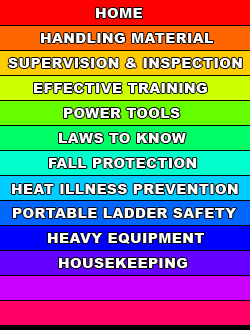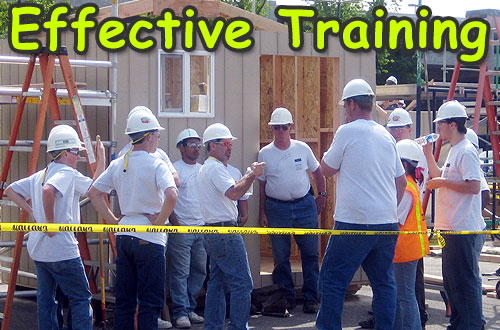 What Can Happen to You
RISKY BUSINESS
| | |
| --- | --- |
| | I was working on a site and a young guy was driving an excavator with very little training. He went up a slight embankment and rolled the excavator. He could have been crushed inside the cab but luckily escaped though the window. |
| | I was working on a site and an electrician asked me to help him with some wiring. He didn't give me much instruction and forgot to tell me about the safety cutoff switch. He did something and the fuse box I was standing beside started shooting out flames and sparks. I got first and second degree burns on my arm. |
While working in the construction industry you will be exposed to hazards which can lead to death or serious injuries like falls, electrocutions, cuts and amputations, hearing loss, backaches and pain in the shoulders, neck, arms, and hands. These injuries can lead to you working with pain and eventually not being able to work at all.

How to Keep Yourself Safe
You are responsible for following the training and safe work practices of your teachers and employers.
In California your employer has a legal obligation to provide you with a safe and healthful workplace. If you are a student, your teacher has the primary responsibility for protecting your safety and health. You must be closely supervised and thoroughly trained on the hazards of the work you do and how to keep yourself safe, before you start your class or work.
Work smarter, feel better, and reduce your chances of getting hurt:
1. Get Trained On
On how to work safely and the proper use of tools and equipment
If you don't know or you're not sure, ask your teacher or foreman before starting work
2. Make Good Choices
Always follow your training
Give your undivided attention to your tasks. Do not rush, daydream, "horse around" or take any chances or shortcuts that can injure or cause you pain
Stay sober and drug free
You can refuse to do work if you have not been trained
If you think you see a safety problem, or if you feel pain or suffer an injury, report it right away to your teacher or foreman

For more information on how to keep yourself safe, read Best Practices, Training Topics for Teachers and Employers.