Electronic Adjudication Management System (EAMS) Insider
Issue 30 March 3, 2011
Welcome to EAMS Insider, the newsletter about the Electronic Adjudication Management System (EAMS).
The Division of Workers' Compensation fields many questions from injured workers, employers, attorneys, insurers, lien claimants, and others about the new system. This newsletter was created to answer those questions and share information. Every month, EAMS Insider will provide information on new developments and what to expect during this transition. Bulletins will also be sent to subscribers for important announcements. (Sign up to be a subscriber at EAMS@dir.ca.gov.)
EAMS updates
Spring is coming, with its renewal and fresh growth after winter. And so it is with EAMS, which is poised to take its next step forward with completion of the present term solution (PTS) slated for April. The PTS is a two-point plan developed by DWC and its advisory group of claims administrators, attorneys, service providers, lien claimants and others, which includes a new electronic filing method and access to public case file information on the DWC Web site. The PTS is part of DWC's strategy to expand electronic filing using a phased approach that meets external users' principal needs while moving toward the goal of full electronic access to EAMS.
The public information case search tool went live to rave reviews in December. The other major component of the PTS, which adds a second electronic filing method called JET File to EAMS, will directly benefit high volume users who are able to immediately take advantage of bulk filing capabilities and will indirectly benefit other users by reducing the overall volume of paper processed at DWC district offices.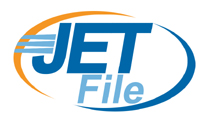 JET File will join the e-forms trial as a speedy electronic alternative to paper OCR forms. Now that there are two electronic filing options, it's time to join the E Team!
Each of these two electronic filing mechanisms has differences and benefits. You'll want to compare the two methods and select the one that best suits your business model. But before you get to that decision point you might be asking, "Why become an electronic filer?" Here are just a few of the many reasons:
You'll save time and money submitting forms and attachments—including eliminating a lot of paper and postage costs
You'll get faster responses. JET File provides immediate notice of errors and e-forms allow you to choose a hearing date for your declaration of readiness to proceed
You'll stay out of the paper queue at DWC district offices
The above factors collectively will help resolve cases faster.
Here's how JET File will work:
Instead of logging directly into EAMS to file documents, JET File will use a secure Internet connection to send the data filers would use to populate OCR or e-forms, along with the requisite attachments (like medical reports or proofs of service), to State of California servers, where they will be picked up by DWC and deposited into EAMS. Following submission, JET Filers will receive an automatic electronic response showing the documents were received. Any errors will be reported promptly. Filers will retrieve these messages from their server account.
JET Filers can use the public information case search tool to research their cases and ensure they have the correct information for successful submission.
JET File uses data transmission and DWC has created the "receiving end" for the data and attachments, giving JET filers three options to take advantage of this service: Filers can create their own transmission process using the technical specs published by DWC; they can purchase software from an approved vendor; or they can use a third party filer to transmit on their behalf. (Decisions, decisions.) Then they must sign a trading partner agreement, and if creating their own transmission process, conduct testing and receive validation from DWC.
JET File is ideal for large to very large offices that file 100 or more of the six most-filed forms and attachments, because (unlike e-forms) multiple forms and attachments can be sent in one electronic submission.
DWC is building new pages for the EAMS Web site that will make it easy for filers to join the e team and begin filing electronically. The new pages will show how to choose between the two electronic filing methods, how to sign up to file electronically, and will provide training materials and other resources. The design will be similar to our pages for OCR and e-forms filers. Watch our Web site or this newsletter for the debut of the new pages.
Web site changes
The document titles list was updated on Feb. 22. This was done to eliminate a space between words that may cause a processing error. Please use the new version.
A legacy form, the application for adjudication of claim (death case), has been added to the DWC forms page under "legacy forms" in the chart.
E-forms trial update
As noted in our first item, the e-forms trial is still going strong. If you interested in joining the e-forms trial, send in a signed agreement and take the computer based training.
EAMS blog
Judge Colleen Casey is taking a brief respite from blogging duties but will return with more helpful hints next month.
EAMS Insider is published every month by the DWC Communications Office. It can also be found on the division's Web site at www.dir.ca.gov/dwc/EAMS. Questions? Comments? Story ideas? Email EAMS@dir.ca.gov
EAMS Public Information Officer Peter Melton
510-286-7100
Division of Workers' Compensation (DWC)