Electronic Adjudication Management System (EAMS) Insider
Issue 26 September 30, 2010
Welcome to EAMS Insider, the newsletter about the Electronic Adjudication Management System (EAMS).
The Division of Workers' Compensation fields many questions from injured workers, employers, attorneys, insurers, lien claimants, and others about the new system. This newsletter was created to answer those questions and share information. Every month, EAMS Insider will provide information on new developments and what to expect during this transition. Bulletins will also be sent to subscribers for important announcements. (Sign up to be a subscriber at EAMS@dir.ca.gov.)
EAMS updates
From the start, EAMS has continued to evolve and improve. For external users, being a participant in the EAMS e-Forms trial is the best way to access its many benefits. Previously, the Insider profiled applicant and defense attorneys. Now, here are accounts of how businesses that e-file liens are harnessing the power and efficiencies of EAMS:
Patricia Green is one of the founding partners of Associated Lien Services (ALS), a lien representative company that has done billing and collection for over 14 years. "We manage thousands of cases and need to use the best available tools to be successful," says Green, who began e-filing in June.
"Before getting our EAMS account, we would prepare OCR lien packets, mail them and pray that we would become a lien claimant at some point in time. Now we can file a lien in the morning and file the DOR in the afternoon and get a hearing date all in the same day," she says. "There is no doubt that this is helping us to settle more cases more quickly. That's good for us, our clients and the whole work comp system."
Green is equally excited about ALS' access to all documents in EAMS. She said that as lien claimant representatives, before EAMS, they often had to fish for information. "We might request a C&R document and wait months just to know the amount and the terms. Now we go into EAMS and, voila, it's there. We look up AME reports, §10608 letters, C&Rs, Orders...everything," says Green.
Rather than filling out each lien manually, she uses software called EDEX Plus from CompData to validate information, auto-populate the e-forms and retrieve batch IDs. "It's an amazing productivity tool that makes EAMS even more valuable."
The law firm of Lee R. Mathis & Associates has one client: Medical Management Network, Inc., a contingency-based lien collection company serving a variety of medical providers. Firm namesake Lee R. Mathis has been in the workers' compensation industry for over 35 years—the first 10 years as a defense attorney.
Mathis considered joining the e-forms trial two years ago but determined that having only one EAMS login would not be enough for his large office. But he found that his office was often unable to successfully file DORs because their clients were not recognized immediately in EAMS as case participants. Now the firm checks each case in EAMS and, when necessary, files both the lien and DOR electronically. "That's a really significant improvement and we're getting many more cases to court, which is what we want," Mathis said. His office also uses vendor software to auto-populate e-forms with pre-validated EDEX data to increase productivity.
Now that he has joined the e-forms trial, Mathis wouldn't have it any other way. When asked what it would be like if he had to go back to filing paper again, Mathis laughed. "We wouldn't. People have been asking me for years why I don't retire. Well, that would be one thing that would make me retire."
Other updates
Court Administrator Keven Star recently made remarks about DWC moving toward mandatory electronic filing for attorneys. Many professionals were confused by this, so just to be clear, DWC is not mandating e-form filing. While filers currently have the option of the e-forms trial or hiring a third party to file electronically, Star was speaking of next year and beyond, when electronic options will expand. The present term solution, which will debut in early 2011, uses secure file transfer protocol (SFTP) to allow high volume users to file in bulk. PTS will add a third electronic option and make it more viable for more professionals to file electronically, and thus less reason to continue to file on paper.
Star's complete statement is on the Lexis Nexis Web site.
Present term solution update:
The progress ticker is moving again. With another month in the books, the Web enhancement portion of the PTS is close to completion. This is good news for external users, because when finished a new public search page will debut. For the first time, public search results will include all cases, not just active cases. Also included will be the hearing location, official address record (but not the injured worker address), the current judge assigned to the case, limited case events, body part code and case status (except for details on archived cases).
To access this information, requestors will enter their email address and uniform assigned name (UAN) when applicable, and the reason for making the request. When completed, the new search function will be another useful tool for external users.
Meanwhile, the SFTP technical development continues, with testing scheduled to take the better part of the next few months. Because furlough days have reduced the number of working days for the Dept. of Industrial Relations and the Div. of Workers' Compensation, the scheduled debut of PTS bulk filing will likely be pushed back from its original completion date of December to early 2011. The Insider will keep you posted on the PTS' progress in future issues.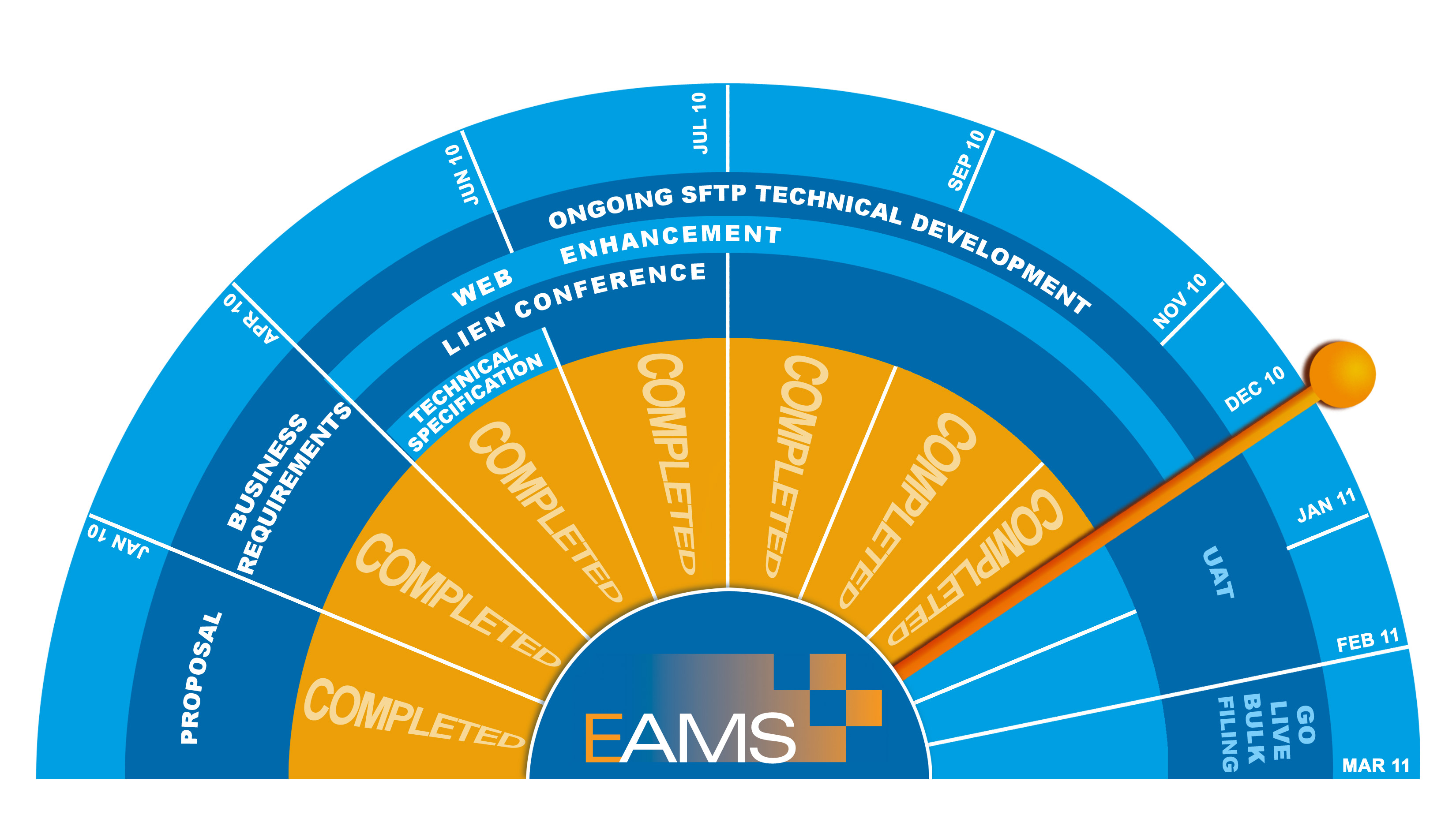 Web site changes
The following examples of how to set up OCR files for submission have been updated and improved:
E-forms trial update
The last e-forms trial participant training session, from Aug. 27, has been posted on the Web site. The trial is still accepting applications, so if you would like to become an e-filer send in a signed agreement and take the computer based training.
Blog
DWC Judge Colleen Casey's offers three tips for trial when submitting evidence in her latest blog for Lexis Nexis
EAMS Insider is published every month by the DWC Communications Office. It can also be found on the division's Web site at www.dir.ca.gov/dwc/EAMS. Questions? Comments? Story ideas? Email EAMS@dir.ca.gov
EAMS Public Information Officer Peter Melton
510-286-7100
Division of Workers' Compensation (DWC)