Electronic Adjudication Management System (EAMS) Insider
Issue 25 August 26, 2010
Welcome to EAMS Insider, the newsletter about the Electronic Adjudication Management System (EAMS).
The Division of Workers' Compensation fields many questions from injured workers, employers, attorneys, insurers, lien claimants, and others about the new system. This newsletter was created to answer those questions and share information. Every month, EAMS Insider will provide information on new developments and what to expect during this transition. Bulletins will also be sent to subscribers for important announcements. (Sign up to be a subscriber at EAMS@dir.ca.gov.)
EAMS updates
EAMS marked its second anniversary on Aug. 25, and the day was otherwise uneventful. The Division of Workers' Compensation opened the doors on its 24 district offices throughout California, and business was conducted more or less as usual. There was no party, no proclamation, and if not for a newsline marking the occasion, arguably few people outside of the division would have noticed.
And this is a good thing. When things work as designed, nobody notices. It's when things don't work that people notice.
And EAMS is working.
For two years EAMS has been DWC's system of record, creating new cases, generating workflow and tasks for staff, and setting hearings in an electronic environment with easy information retrieval. Two years have passed without crashes, lost data or the dire scenarios that technology projects sometimes inspire in the imagination. Perfection is elusive, but EAMS has been the reliable day-to-day performer it was envisioned to be. The experience the division has gained over the past 24 months puts us in a good position to make continued improvements.
Let's take a closer look at the future, because the outlook is positive.
Readers of this newsletter know that a project is currently underway to develop a new form of electronic filing and expand access to case file information without a logon. The "present term solution" (PTS) will add a third filing method to EAMS, and will directly benefit high volume users and indirectly benefit others by reducing the amount of paper filed at district offices. The PTS is more than 50 percent complete.
The PTS is also part of the larger EAMS External User Access Project, which, when funded, will allow broader access to the system.
That's the future. Right now, the e-forms trial is a tried and true method for those who want to file their forms electronically.
Launching EAMS on Aug. 25, 2008, was the first step in a long journey for the division and its external partners. Thanks for being along for the ride.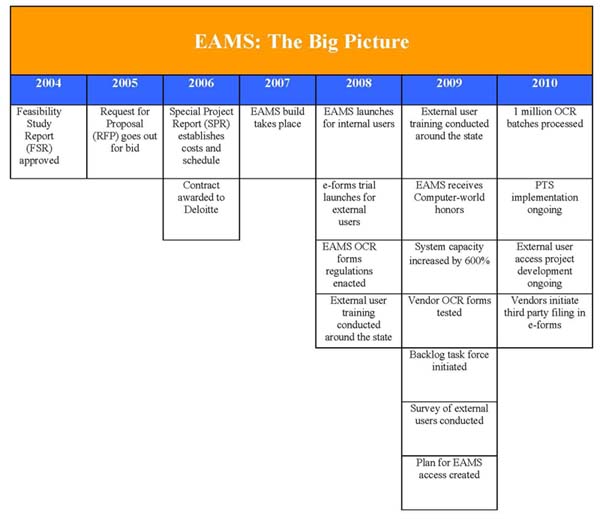 Present term solution update:
Time marches on, and so does work on the present term solution (PTS). Recently the ticker showing progress on the PTS was updated to show the progress on Web enhancement and SFTP technical development. Bi-weekly meetings for SFTP technical questions and support for external developers are continuing.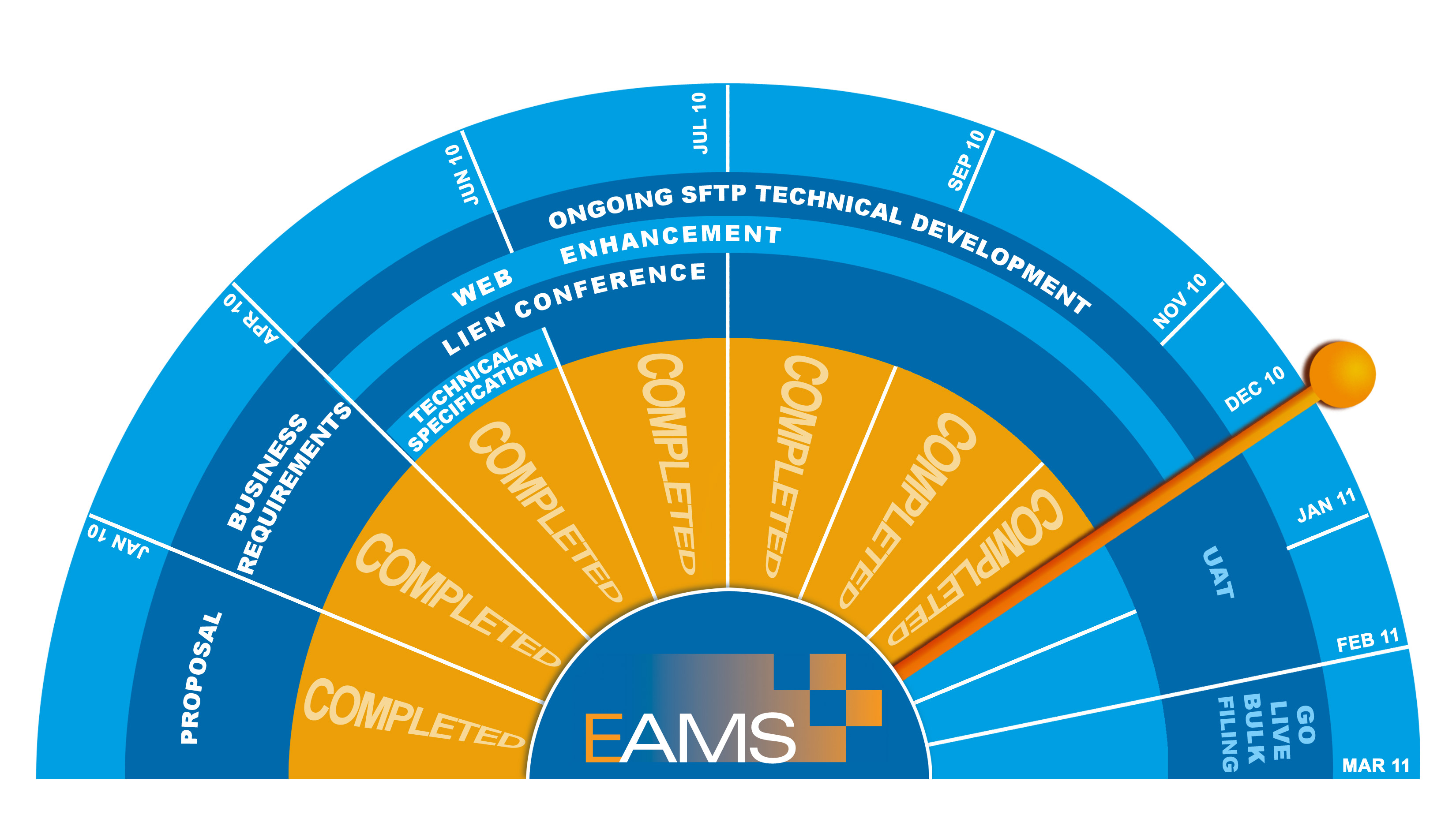 Bulk filing is scheduled to go live in December, although the recent furloughing of state offices three days a month may play a factor in the schedule. You will find the ticker, meeting notes and other information about the PTS here: http://www.dir.ca.gov/dwc/EAMS/PresentTermSolution/PresentTerm
Solution.htm
Web site changes
New and improved examples of how to assemble filing packets have been added to the OCR form filers page. These instructions tell filers how to fill in OCR forms and the order in which the forms should be filed.
The amended application, notice and request for allowance of lien, and stipulations with request for award were previously updated in July, but these are the latest versions.
The document titles list spreadsheet was also updated to reflect recent changes:

Document titles list

Aug. 18, 2010
E-forms trial update
More than 50 new e-filers will join the trial this month, with a tutorial webinar on Aug. 27, and will bring the total number of logons to more than 400. If you are one of the new folks joining, remember that you must attend the webinar in order to receive a logon and password. Current e-filers do not have to attend, but it is a good refresher, and new staff members will find it helpful.
Interested in becoming an e-filer? The next training will be in a couple of months, so send in a signed agreement and take the computer based training (CBT).
Blog
DWC Judge Colleen Casey goes to the movies in her latest blog for Lexis Nexis, reviewing the latest OCR forms tutorial.
EAMS Insider is published every month by the DWC Communications Office. It can also be found on the division's Web site at www.dir.ca.gov/dwc/EAMS. Questions? Comments? Story ideas? Email EAMS@dir.ca.gov
EAMS Public Information Officer Peter Melton
510-286-7100
Division of Workers' Compensation (DWC)