Meet our apprentices
Success stories
---
An Apprenticeship can not only give you a lifelong career, it can change your life.
When a war is raging around you and you're sleeping on the streets, on the beach or in the jungle it's hard to envision your future. But William Castro knew, even while surviving his childhood in El Salvador, that there was more to life than the hand he'd been dealt. He wasn't raised by his parents or family members. He didn't go to school past the second grade. But at the age of 21 he made his way to El Rio, Texas, then to North Hollywood where he found political asylum and a new lease on life.
Starting out in the U.S. was not easy. In his first month a bicycle accident left his arm in a full cast for a year. Moving to San Jose, Calif. he supported himself delivering flyers door to door for $30 a day. When his arm finally healed he took a jo as a laborer for a roofer, and as a handyman on the side. The construction world was familiar to him. Before coming to the U.S. he supported himself as a mason. One day a co-worker suggested he go to the Carpenter's Union Local 405 and enroll in the apprenticeship program.

When William started at the Carpenter's Training Committee of Northern California he knew his way around a construction site, but not a classroom. He failed math. So did a classmate sitting next to him. Well-dressed and straight out of high school, William's classmate got up in the middle of the math exam, leaving the test and his pencil, never to return. William took that pencil and carried it with him everywhere as a reminder to never give up. Although it took him seven years, he finally completed the four-year program.

"He never asked a favor, never asked you to lower your standards for him, he would just try again," Said Dave Kirby, one of Williams's teachers.

When another teacher, Mr. Clayton, told him he needed to learn English or he would be wasting his time in the classroom, the apprenticeship program was adjusted so William could continue to work while he went to the local adult school to learn English.
William knew the apprenticeship was a golden opportunity to better his life so he worked as hard as he could and was able to return to the classroom portion of the program within six months.

Even though Mr. Clayton was hard on him, William respected him and developed his own philosophy:
"Rather than fight against it, it's better to meet a challenge with three things--love, patience and hope. In that way you can make your way through to your goal. Whatever Mr. Clayton told me to do I would try my hardest to succeed because I wanted to graduate from the program and become a journeyman."

Mr. Clayton returned the feelings of respect his student showed him. "It would break my heart to tell William he did not score high enough to pass on to the next level because I knew he had given it his best. But he never argued, he would just say, I'll get it next time," Clayton recalled.

William did whatever he needed to do to succeed with integrity. He and a small group of three or four other Spanish speaking students studied together constantly. They knew as a unit they would be stronger. Also, the others had school experience: Some had even gone to the university in the country of their origin. Their complementary strengths helped them all get through.

"Some of the students would finish their projects and then just stand around," Kirby added. "William had the best attitude -- if he completed a project he looked for the next thing to help out on. The construction industry is for those who want to work hard. Not everybody has what is takes to be successful."

The night of William's graduation the instructors were giving out awards. They announced a special award for a student who had worked hard with perseverance and determination. To his surprise it turned out to be William.

Today, William works for Coy Sanders Construction, the same company that hired  him straight out of the apprenticeship program. William wants to work for another 20 years as a carpenter and then retire. And he can because he now has retirement benefits through his work.

William has a wife and a five-year old son. He is able to work from 7 a.m. to 3 p.m. so he can pick up his son from school everyday.

"There is nothing more important for a child than love from his parents," William  said. "Children are like trees, as they grow they need nurturing so they grow straight."

William found people in his life to help him grow in the direction he wanted. Now it's his turn to pass on the lessons. "Dreams begin in your heart. Recognize your opportunities and go for them. Don't let yourself get discouraged and you will find your way to your goal," he said.
---
David Gonzales, 31,  the father of two young daughters, is among an emerging group of apprentices who are poised to fill the thousands of jobs being created by retiring baby boomers, and more than $43 billion worth of public works projects looming on California's horizon.
"Nobody in my small town told me that I could be a carpenter," he said in a recent interview. "These kids have to know that instead of wasting two or three years like I did, they should get into the system."
Many young men and women alike who want to work outdoors or work with their hands, but don't want to spend four years in college while they work fast food jobs, will have a greater opportunity to do so in California over the next 10-to-12 years. That's because voters passed a huge bond issue that is designated for public works projects that will rebuild the state's infrastructure. Known as the Strategic Growth Plan (SGP), the work required to build and re-build schools, prisons, courthouses, and transportation projects is expected to last through 2016.
For young workers, it's a literal Gold Rush opportunity. Public works projects require a ratio of one-apprentice-to-every-five-journeyman, and because the goal is to keep the work local, a short fall of labor to fill all the apprenticeship jobs is expected. That's why California needs to build a skilled workforce, and apprenticeships are the pathway to doing that for both employers who will be seeking workers and employees who want good paying jobs without having to go to college.
Gonzales is already cashing in on the coming boom. He is a pile driver in Carpenter's Local 34 in Pleasanton and for the last three years has been working on the San Francisco Bay Bridge. Even as an apprentice who is just nearing the end of a four-year program, he has earned more than $80,000 in 2008, plus benefits such as medical coverage for his family and paid vacations.
But it isn't just about the money for Gonzales, who grew up in the farming community of Colusa where he previously worked as a farm worker and then as a caregiver for his brother who had been injured in an accident. He loves working with his hands, working hard and learning at the same time. Some days he works with cranes and other days he does some welding or torch cutting.
"It's a gradual thing, there is always something to learn and something to teach other apprentices," he explained. "I help them and the journeymen help me—it's a great system."
---
Other apprentices tell a similar story. Elena Talley, a young mother of two children, is an apprentice ironworker who got her start on the Richmond/San Rafael Bridge where she started by removing old steel while 150 feet over the very cold water.
"On my first day I was very scared," she said. "It was my first time working at a height like that."
In this case, being scared is a good thing, according to her instructors who warn that respect for heights is critical for safety and success. Talley's job and that of other ironworkers on the bridge, requires the placement of more than 31 million pounds of new structural steel, as well as the use of new high strength bolts, and rivets.
Ironworker apprenticeship training also includes learning about items such as rebar, also known as rod busting. It's considered one of the most grueling forms of ironwork due to the heavy lifting involved in unloading, placing and positioning the reinforcing steel that holds the concrete in place.
"It will make or break you," Talley laughs. "If you can make it in rebar, you can make it anywhere."
Before she began her ironworker apprenticeship, Talley was a beverage sales representative, but decided she wanted to try something different.  She wasn't interested in going back to school and spending years studying without a paycheck coming in to help her family. That's when she followed her ironworker husband's lead and within three days was on to her new career.
However, getting into an apprenticeship isn't for the faint of heart. It takes work, persistence, a high school diploma or a GED, and a willingness to learn. Training for some specialties can last from one-to-six years and requires apprentices to attend classes related to the occupation where they learn theories as well as on-the-job training under the supervision of skilled, experienced workers.
Sometimes, the toughest part is choosing which craft to learn. There are more than 30 available in all 58 counties of the state ranging from automotive-to-culinary-to-machinist-to-tile setter.
For Gonzales, persistence paid off and after finding an employer willing to take him on as an apprentice, the door finally opened after three or four weeks.
"I think in the end, they got sick of hearing from me," he laughed.
Like Gonzales, Talley enjoys the money and benefits she receives while she's learning, but she readily admits there's a lot of pride involved.
"It's the accomplishment of putting something up that's going to be around for a long time," she said. "For me personally, it's knowing that when we're done with the bridge I can say—I built it!"
---
Apprenticeship provided the tools, she provided the sweat & perseverance
Hello, my name is "Frankie" Roy. I am a 35-year-old woman in the trades. I am honored to share the experience of my life with you as an apprentice, where I came from and where the apprenticeship brought me.
I come from a very poor up-bringing and I left home at the age of 14. At the age of 15 I was working full-time in the moving and storage industry. Starting out at $5 an hour, paid under the table, with no benefits, six years later I left that company making $9, still with no benefits. Between the ages of 16 and 20 I had married and divorced twice and had two children. After my second child was born I went back to work two weeks later in order to support us. I met my third husband at the age of 22: He was also raising his two children alone. My husband and I struggled for six years doing odd jobs. From time-to-time we went on welfare. I went to college for a few semesters. Although I did well, working full-time and raising four kids, I found myself too burnt-out to give anyone or anything the attention needed.

Throughout that time I held an office management position, I ran dispatch for multiple tow truck companies at night and even drove a tow truck for a short period of time. Again, for low wages and no benefits! I was successful in all the jobs I did, but they were all dead ends, getting me nowhere. Something inside told me I could do so much more with my life. Additionally, I did not want our children growing up the way I did - making a change was going to be as much for them as it was for me. At the time we were living in Sacramento, and an opportunity for my husband came up in the Bay Area. We needed to be serious about getting our lives on a more growth oriented path, we were headed nowhere. We packed up our belongings and moved to where the opportunity was.

We put our things in storage and lived in a hotel for about a month before finally renting a home in the Santa Cruz area. We lived in low-income housing paying $375 a month and were barely making it. I needed to do something.

I always liked working with my hands and was never afraid of manual labor. I was interested in working in the trades and my husband was very encouraging. Martin Shields Drywall was the first company that hired me. Martin saw potential in me and suggested I go to Local 9144 and get into their apprenticeship program. From my first day at the apprenticeship I knew I was at the right place.

First they put me 'on the trucks', meaning I did stocking and scrapping of the materials the carpenters used. This gave me an opportunity to learn the materials, how to carry the sheet rock and the different gauges of steel. They trained me knowing I could someday be a foreman and would need to handle all these materials myself.

The apprenticeship program was four years long and in all that time I had never missed a day, until my last day before graduation. The night before my last day of the program I had a bad reaction to a chemotherapy treatment I was undergoing and could not make it in. Even though I had finished my final project, I couldn't be there to present it so my classmates filled in for me. The project was to build a structure with serpentine walls, a barrel ceiling and columns. I built everything from the ground up on my own. That week, mine was the only project to receive an A. I graduated from the program with the 'instructor's choice award'. Scott Lewis, my instructor, Darrel Lawrence, my coordinator, and Steve Tuma, president of the apprenticeship program, were all invaluable mentors. They always believed in me and I never felt like I had to prove myself because I was a woman.

There is nothing like the feeling I got when I drove my kids past the first building I built and said, "Mommy built that". It truly filled me up with a sense of purpose in my life.

My husband and I went from paying $375 a month in low-income housing to $1,200 a month in February of 1998. We went from barely making it, living week-to-week to paying our bills on time and living in a beautiful home with all the goodies. My children have a much different upbringing than I did. My oldest son, I am very proud to say, recently joined the carpenter's apprenticeship, making him a fourth generation carpenter in the union.

Within four years I had gone from a 40 percent apprentice to superintendent, I had anywhere from 150-to-450 men and women working under me. The Northern California Carpenters Regional Council hired me February of 2004 as a field representative. I'm just not wearing my tools anymore. Now I help people by fighting for better wages and benefits. I educate men and women in the trades that are working for contractors who take advantage of them. It's my turn to give back what I so graciously received and worked for, and I am.

I have faced a lot of challenges but I always knew somewhere deep inside I had potential to grow. If I had to do it again I wouldn't change a thing. I guess it's just putting one foot in front of the other until you are there. Where I go from here, my opportunities are endless.
I am telling my story to you to encourage you. As a woman in the trades I owe a huge thanks to the Carpenter's Apprenticeship and to the Carpenters Union. They gave me the tools and with my sweat and perseverance I made it. And you can too. I sincerely hope this letter touches someone. For me, I couldn't ask for anything more. Good luck in your endeavors and God bless.
---
Success Stories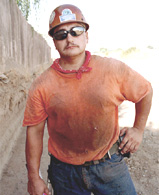 Sam Apodaca
Ironworker's apprentice
Fresno
"Going to school for your trade is like adding another tool to your tool belt. The guys respect you more. There's a lot of things you need to know in the field. But combine that with your books and you turn into a professional."
---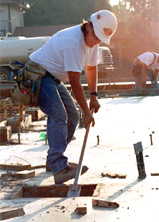 Candy Lane
Carpenter's apprentice
Fresno
"It helps to have a pre-apprenticeship. As a beginner they really want you to get out there and hustle your own work, get out there and knock on doors three times per week. I worked the whole year, all but two months. I personally haven't found it a problem finding work. I've worked two months at the school now."
---


Clint Hunt
Plumber's apprentice
Fresno
"You don't have to know anything but they give you a math test when you come in. The higher you score on the test, the higher you are placed on the waiting list. It takes five years to graduate from a plumber apprentice. There's 10 periods of apprenticeship. There's a good living to be made here and you'll be very well taken care of."
---


Vieng Sasone
Carpenter apprentice
Fresno
"Carpentry is the kind of work I like to do. I like everything about it. I'm still taking classes. I got on the union list and they called me. I showed up there every morning and they asked me if I wanted to work."
Credits: photos by Robert Gumpert