Commission on Health and Safety and Workers' Compensation
The Worker Occupational Safety and Health Training and Education Program (WOSHTEP)
It is the responsibility of the employer to provide a safe workplace to all employees by setting up the worksite as safely as possible. Employees also have a responsibility to follow safety rules. Employers should: have safe, well-maintained equipment; enforce safe work practices; provide protective gear when necessary; and train employees about the hazards they face and how to work safely. At the end of this guide, you will find useful background information on how to take the safest approach and what components your health and safety program should have.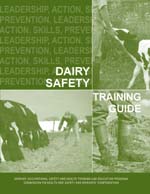 This Dairy Safety Training Program will help strengthen your health and safety program by helping you teach your employees about hazards they face to reduce the chance of injury.
The Dairy Safety Training Program is designed specifically for dairy owners and managers who need to train employees working in dairies. This training program can help:
Prevent job injuries and illnesses. Regular training helps employees learn how to avoid hazards, keeps lines of communication open between you and your employees, and lets employees know that you are serious about promoting safe work practices.
Lower workers' compensation costs. Medical costs in the workers' compensation systems have begun to increase in recent years.

The cost of workers' compensation for the dairy industry is about three times the average cost of workers' compensation in California, according to the Workers' Compensation Insurance Rating Bureau (WCIRB).


Reduce the number of days away from work and lost productivity. The best way to reduce costs, retain jobs and maintain a productive workforce is to reduce injuries.
Meet training requirements under California's occupational health and safety laws.
If you would like to request a copy of the materials, please send your request to chswc@dir.ca.gov
August 2016