Electronic Adjudication Management System (EAMS) Insider
Issue 24 July 29, 2010
Welcome to EAMS Insider, the newsletter about the Electronic Adjudication Management System (EAMS).
The Division of Workers' Compensation fields many questions from injured workers, employers, attorneys, insurers, lien claimants, and others about the new system. This newsletter was created to answer those questions and share information. Every month, EAMS Insider will provide information on new developments and what to expect during this transition. Bulletins will also be sent to subscribers for important announcements. (Sign up to be a subscriber at EAMS@dir.ca.gov.)
EAMS updates
OCR forms have not changed much since their debut nearly two years ago. That will no longer be the case in August, when important modifications are made to three key forms.
First, the declaration of readiness to proceed (DWC-CA form 10250.1) will now include a box for lien claimants to name themselves as a declarant, and a box to request a lien conference. This will help streamline the lien process.
Second, the document cover sheet (form 10232.1) has been changed to remove the box for the vocational rehabilitation unit (VOC). The vocational rehabilitation program ended Dec. 31, 2009.
Third, the document separator sheet (form 10232.2) has an amended listing of document titles and document types, both in the body of the sheet and on the PDF version. Some 21 new titles are being added, while two titles (both dealing with the defunct vocational rehabilitation program) are being removed. (Here is the complete list of titles.)
The new forms will be available on the DWC Web site's forms pages on Monday, Aug. 2. Older versions will be accepted for filing for a limited time at district offices, but given the increased functionality that the new forms offer, DWC urges filers to download and start using the new forms as soon as they are available.
E-filers will also have equivalent new forms posted on Aug. 2.
If you are a client of a third-party filer, or buy customized forms from a private vendor, you should know that DWC is working with these vendors to make sure that their forms are compatible with EAMS. (This link shows the list of approved OCR forms vendors.)
Present term solution update:
Work on the present term solution (PTS), which will add a third filing method to EAMS to allow high volume filers to file six priority forms in bulk, is proceeding according to the schedule set at the beginning of this year.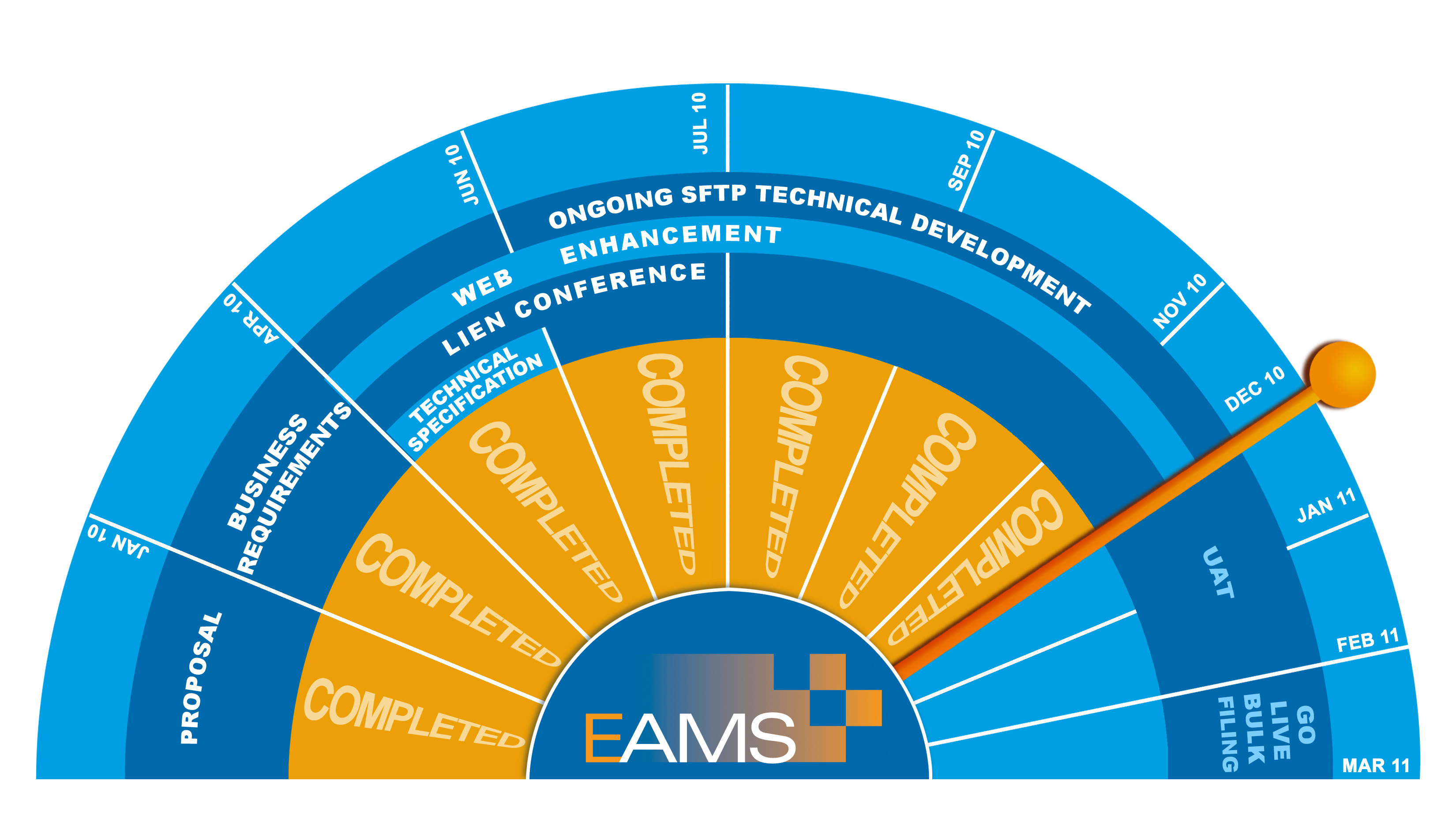 Recently the ticker showing progress on the PTS was updated to show that the lien conference capability has been completed. Work is continuing on Web enhancement and SFTP technical development. Bi-weekly meetings started earlier this month for SFTP technical questions and support for external developers.
Bulk filing is scheduled to go live in December. The present term solution will also expand access to case file information available on the Web without a logon. You will find the ticker and other information about the PTS here: http://www.dir.ca.gov/dwc/EAMS/PresentTermSolution/PresentTermSolution.htm
Web site changes
Two new examples of how to assemble filing packets have been added to the OCR form filers page. These instructions tell filers how to fill in OCR forms and the order in which the forms should be filed.

Notice and Request for Allowance of Lien

- July 22, 2010



Stipulations with Request for Award

- July 22, 2010
This example was recently updated:

Amended Application for Adjudication of Claim

- July 15, 2010
A privacy statement was recently added to the DWC Web site: "If you provide your Social Security number (in whole or in part) ("SSN"), DWC will use it as an identifier to ensure that documents are matched to the correct workers' comp case. Unless authorized by law to do so, DWC cannot disclose your SSN. (See, conditions for disclosure at California Civil Code Section 1798.24.)" This is the first step in a more comprehensive explanation for injured workers about what DWC does with the information they provide. This information will be added to the FAQs and other pertinent places on the Web site. Insider will provide details as they happen.
E-forms trial update
The next group of e-filers will join the trial in August, and will bring the total number of logons to more than 400. Filers have been busy lately: Trial administrator Chuck Ellison reports that some 12,465 batches were successfully filed during a recent week, the highest number ever. This week's total was 11,759. That's impressive when you consider that batches can contain multiple documents. Keep up the good work, e-filers!
Blog
When should an attorney refuse to speak to a doctor? DWC Judge Colleen Casey illustrates such a scenario in her latest blog, which will be posted soon at Lexis Nexis.
EAMS Insider is published every month by the DWC Communications Office. It can also be found on the division's Web site at www.dir.ca.gov/dwc/EAMS. Questions? Comments? Story ideas? Email EAMS@dir.ca.gov
EAMS Public Information Officer Peter Melton
510-286-7100
Division of Workers' Compensation (DWC)