Electronic Adjudication Management System (EAMS) Insider
Issue 28 December 2, 2010
Welcome to EAMS Insider, the newsletter about the Electronic Adjudication Management System (EAMS).
The Division of Workers' Compensation fields many questions from injured workers, employers, attorneys, insurers, lien claimants, and others about the new system. This newsletter was created to answer those questions and share information. Every month, EAMS Insider will provide information on new developments and what to expect during this transition. Bulletins will also be sent to subscribers for important announcements. (Sign up to be a subscriber at EAMS@dir.ca.gov.)
EAMS updates
As 2010 draws to a close, it feels like a quiet year in EAMS world. But it only seems quiet, because we've all been working hard on making improvements. Some of these were unveiled earlier this year—improved training materials and website tools, an expanded e-forms trial and third-party filing.
And we've spent the bulk of the year working on the Present Term Solution. The PTS, which we've covered monthly in the EAMS Insider, is designed to bring two new components to EAMS: bulk electronic filing of select forms and expanded access to case file information to external parties. Both will help move cases through the system faster.
The PTS is 80 percent completed and will begin user acceptance testing in January. The PTS ticker below shows the progress: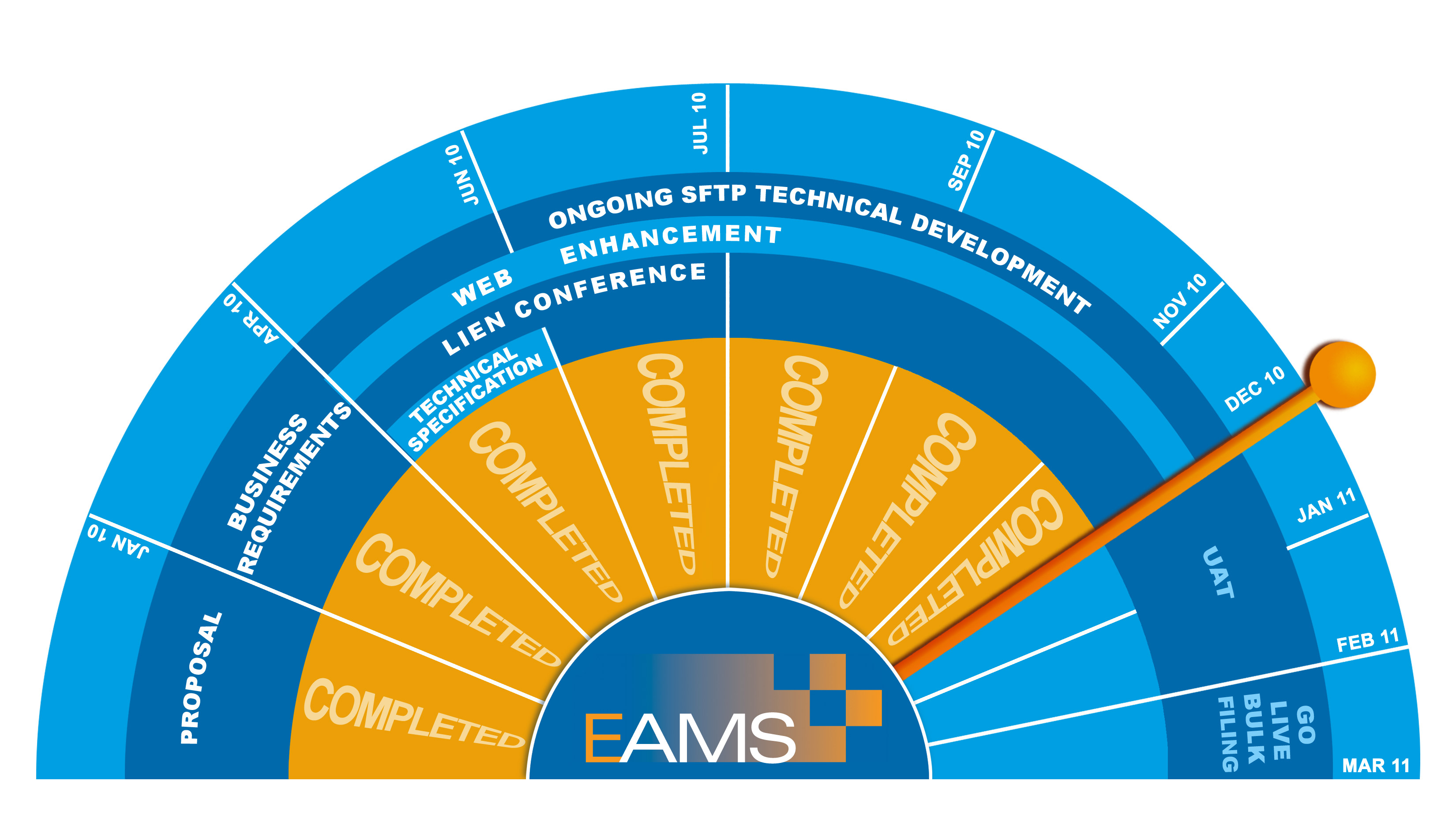 As can be seen by the ticker, a lot of work has gone into the PTS, both from the EAMS technical support team and their counterparts among our external partners. The new components are currently getting a thorough testing so that they will be ready for their debut next year. Until then, you'll have to take our word for it that they'll be well worth the wait.
There will be much more information on these developments in 2011, which promises to be a year of "change for the better" for EAMS. The PTS is just the first part of an overall plan to extend electronic access to EAMS, a plan we call DWConnect. You'll be hearing much more about this in the new year.
A few questions for blog writer Colleen Casey

In November, LexisNexis honored Judge Colleen Casey for the EAMS blog she starting writing for its website in 2008. Naming her blog one of their top 25 of the year, LexisNexis wrote, "We salute Judge Casey, whose light-handed approach to explaining EAMS has helped stakeholders navigate this new e-filing system." Casey began writing the blog some months before EAMS launched—her first effort was called "Easing into EAMS"—and she has used it as a forum to offer guidance and practical tips for legal professionals and others. "I always knew I wanted to be a lawyer, a teacher, and maybe a writer. The blogs, by the way, let me do all three." Her latest entry concerns walk-throughs and is typically drawn with insight and wit.
Judge Casey grew up in California. After law school, she practiced tax law until she applied for a commissioner's seat on the Workers' Compensation Appeals Board in San Francisco. She was appointed to what she describes as "one of the most fulfilling and challenging jobs I've ever had." When her term expired after seven and a half years, she worked as an applicant's attorney for a San Francisco law firm.
Casey has been with DWC since 2004, when she was appointed as a judge in the Stockton district office. "It was the ideal location for me to learn everything I needed to know about workers' compensation litigation. All of the Stockton judges have had years of practical judicial experience…They all have a quick, energetic intelligence and they were eager to share with me everything they knew." She transferred to the San Francisco district office in 2006, where she presides over asbestos cases for Northern California in addition to regular duties as a workers' comp judge.
Q: How do you come up with your ideas for the blog?
A: We have a brilliant legal community here in San Francisco. Often, one of the attorneys will tell me about a glitch that has caught their attention. Also, my wonderful assistant, Lionel Vasquez, will point out global concerns that he has noticed. I'll take a look at the issue, and turn it into a blog.
Q: What do you hope readers come away with?
A: I think most judges feel that it's all about serving our community. So I hope our readers find something in the blogs that will be useful to their practice. As a result, I hope they will view our litigation system as more user friendly.
Q: What have you learned from writing the blog?
A: Any time you have a roll out of a new IT system, there is going to be a learning curve with lots of roller coaster size "ups and downs." Attorneys really appreciate having access to practical and necessary tips on how to navigate more easily through our system.
Q: Do you get much feedback from readers?
A: People seem to really like the blog. In fact, my niece, Paige Casey, sent me an email a while ago after reading one of my blogs. She believes that rules and procedures are meant to facilitate justice. She likes my blog because the tips I offer make it easier for people to understand how to use the rules and procedures to access the system. When that happens, she says, it guarantees that all parties will have an opportunity to be heard. As a result, justice overall will be better served. I thought that was pretty sharp of her to pick up on that… but then, I may be a bit biased.
Q: Any particular blog entries that have touched a chord with people?
A: People really like the blog that I did in collaboration with Jill Comyford and Chuck Ellison, which explained how to request a DEU rating. Many people were stymied before the article came out on how to obtain a DEU rating using the EAMS forms. Thanks to the diligent efforts of Jill Comyford and Chuck Ellison, parties now have no trouble getting the ratings they need, when they need them.
E-forms trial update
Recently, some attorneys have asked whether they are required to begin filing electronically in 2011. The answer is no, but legal professionals are encouraged to do so. The next round of the e-forms trial starting later this month offers a timely opportunity. To get started, send in a signed agreement and take the computer based training. The last training session, from Oct. 22, is another resource.
EAMS Insider is published every month by the DWC Communications Office. It can also be found on the division's Web site at www.dir.ca.gov/dwc/EAMS. Questions? Comments? Story ideas? Email EAMS@dir.ca.gov
EAMS Public Information Officer Peter Melton
510-286-7100
Division of Workers' Compensation (DWC)