Quick Links
Preventing and Responding to Heat Illness

I. Effective Work Practices
1. Sufficient Amounts of Drinking Water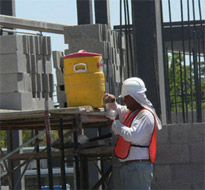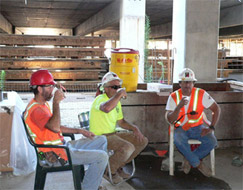 How much water should individuals drink? The recommendation is that during warm or hot weather employees drink four 8-ounce glasses of water, or a total of one quart per hour, throughout the entire work shift. Easy access to sufficient potable drinking water throughout the work shift encourages employees to drink.

Frequent drinking of small quantities of water is key to preventing heat illness:
Encourage employees to avoid drinking alcohol altogether
Encourage employees to choose water over other drinks (e.g., sodas and drinks containing caffeine and sugar) because these other drinks may increase dehydration. Also, if employees choose these other drinks they may drink less water.

During a heat wave Additional Water Consumption by employees will be necessary. Employers must make provisions for replenishing water supplies more frequently and providing a reliable supply.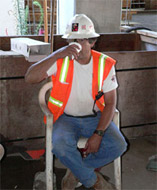 If employees experience any of the common symptoms of dehydration it is important for them to:
Notify their fellow employees and supervisor
Stop working and rest in the shade (or be provided with other cooling measures)
Drink small amounts of water frequently
If the symptoms of dehydration do not go away supervisors need to seek medical attention immediately. Employees can only return to work with authorization from medical personnel and supervisors.

Cal/OSHA investigations (Study 2) showed that in 2006 drinking water was present in 88% of the workplaces but 95% of the heat illness victims showed medical evidence of dehydration.
Cal/OSHA investigations (Study 1) showed that in 2005 although drinking water was available for victims of heat illness, 72% of them showed medical evidence of dehydration. This means that although water was available, the victims did not drink it or did not drink a sufficient amount.

How to Provide a Sufficient Water Supply and Encourage Consumption
(see Provision of Water)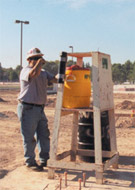 It is vital that supplies of potable water be reliable. This means that effective procedures for replenishment of water supplies are in place so:

Employees can count on a sufficient supply of water throughout the entire work shift and they do not feel pressured to drink less water to conserve the supply
Water containers are never empty
Water containers are filled before employees need to report that the water should be replenished

Train supervisors and employees on the importance of consuming sufficient amounts of water to help prevent heat illness

Remind supervisors and coworkers to:

continue drinking sufficient amounts of water before and after work to reduce the risk of heat illness for the following work day

Address potential obstacles that may prevent or discourage drinking sufficient water by taking the following actions:

Place water near employees' work, gathering, and break areas to help ensure that it is easy for them to reach the water supply. This will also help minimize disruptions of workflow and production

Provide clean, portable water containers (see T8 CCR 1524, 3363, 3457) and keep buttons, levers, or spouts where the water comes out clean throughout the shift.

Inform all employees they will not be penalized for frequently drinking sufficient amounts of water.
Inform all employees, including those working under "piece rate" pay, that it is to their benefit to drink enough water. They will be healthier and able to maintain their work pace throughout the entire shift.

Arrange for vehicles or equipment to continually move the water to areas near where employees are working so they have quick, easy access (e.g., at the end of rows of crops or fruit trees, near construction site activities, near road work). Use:

Pick-up trucks

A dedicated tractor, forklift or other piece of equipment

Trailers
Gondolas
Harvest machines

Have a designated person(s) whose duties include distributing and replenishing water. If it is necessary to distribute and replenish waster over a large area, more than one person should be designated to perform this function. This person or persons should also encourage employees to drink small quantities of water frequently.